I feel like I haven't been on here in forever! Sorry ladies. Going to try and get on here tomorrow and read al the updates/posts and hear who's had their baby!
We got released yesterday from the hospital. Max was in ICU from birth on Saturday till late Monday afternoon due to low blood sugar levels right after birth. They stayed pretty good in the NICU and he was off the IV about 24 houra after birth but they continued to monitor because of that. He has had some issues maintaining his body temp. and of his jaundice.
He was able to room with me on Monday night then we were released yesterday around noon. I was able to go down to the NICu and nurse him and/or pump. He's been great at nursing. No issues there. We went back to the doctor today to get his bilirubin levels checked and they've increased since birth. We have to go back tomorrow to get them checked again.
He'd been on formula for a bit while in the NICU in addition to nursing and tube feeding. He got his last bottle of formula late Sunday and now my milk has come in but they want me to supplement with formula because of the jaundice. We have a tube feeder so we don't have to give him a bottle but he has no problem going between me and the bottle so I just nursed him real good on both sides then gave him a bit of formula.
We're hoping tomorrow when we go in, his levels haven't gone up.
He's down about 1lb from his birth weight but nothing they are concerned about.
He looks so much like his big brother except he has a head FULL of hair. DS#1 had a light reddish blonde but Max is a dark blonde.
Alex is absolutely in LOVE with him. I don't know what I expected with him but he's just doing fantastic. Let's hope it continues.
While I was nursing Max lastnight Alex wanted to help. So he came up to me and lifted up his shirt and pinched his nipple and said that he would help feed him. So sweet!! He's also started coming up to me while I'm nursing and he puts his hand on the top of my boob like he's helping. It's really sweet. I told Alex he could help me by doing that but he couldn't touch me there unless Max was eating. I just didn't want him walking up to me putting his hands all over my breasts.
Anyway, here are a couple of pics!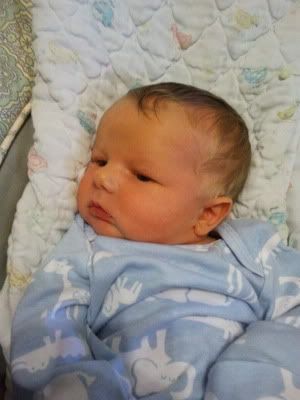 This one Alex is in the bouncy seat/toddler chair we got. It's super neat and Alex is able to sit in it as a chair or Max can lay in it as a bouncy seat. Hold's up to 40 or 45 lbs I think