The story starts on Friday. I told DH that I didn't feel like it was going to be that much longer til the baby arrived. I had diarrhea for the past couple of days and that evening I had some pink CM when I wiped. I woke up that morning feeling...off - mild, period-like cramping and just kind of blah. Saturday and Sunday were business as usual with more of the same from Friday. On Sunday, I decided to get some Christmas shopping done, so I walked around for a few hours and got DS ready for bed. DH and I were joking that it was my first Sunday that I didn't have to get the 17P shot. I was happy to not have to get the shot and he was happy to not have to give it to me. We celebrated with a hot fudge sundae and then I started cleaning. (yes, nesting set in VERY late for me! :D). Normally, I would have been in bed by 10pm knowing I had to get up and go to work the next morning, but that night, I just couldn't seem to settle. I finally went to bed around 11:30 and read for a while. Then I felt a little gush and sat there for a while, unsure. I didn't feel anything else, but got up to pee and when I was done, I felt another trickle. I When my water broke with DS, it was a gush - this wasn't, but I was pretty sure at that point that my water had broken. I woke up DH and got in the shower. We called a friend to come and stay at the house so we wouldn't have to wake up DS. I felt fine - no contractions, no pain. We headed in to the hospital and I started to worry. I knew that since I was attempting a VBAC, they would not give me pitocin to speed things along. It would be completely up to me and my body...and I wasn't sure I was in actual labor.
We got to the hospital at about 12:30am - they confirmed that my water had broken and hooked me up to the monitors. I was contracting regularly every 3 minutes, but wasn't feeling any of them yet. The OB on call came in and checked me - I was only at 1cm. She was NOT a big VBAC supporter - when I told her I wanted a VBAC, she told me I could TRY, but went on to tell me all of the restrictions and limitations and basically said insinuated that they would "pull the plug" on the whole deal as soon as she thought it necessary. I stood my ground and told her I wanted to try. She said ok, but insisted on an immediate epidural - "just in case". I almost cried at that point. I was so frustrated to know that I was stuck with this non-supportive OB...and I knew that an epidural right then was the worst thing I could do. Being stuck in a bed at 1cm would not bode well. At that point, I started trying to convince myself that a healthy baby was the end goal...even if it meant a repeat c/s. When they got me up to a L&D room, I was introduced to my wonderful nurse. She was great! We talked about what I wanted with the VBAC and the OB's orders. She said..."that doesn't really make sense. If you get the epidural now, you'll be stuck in bed and that's not good this early on." I told her she read my mind! She called the OB and asked whether she would be ok with just having the epidural line put in without the medication - that way, I would be already set if something did go wrong, but that it gives me the chance to labor out of bed. The OB agreed, but said that she still wanted the internal fetal monitors put into place. That prevented me from walking the halls, but would allow me to walk around my room a little bit and to get on the birthing ball. I started feeling the contractions for real at about 1:30am. At around 2am, the OB came and put the fetal monitors in and checked me again and I was at 2cm. I got on the birthing ball and did not get off for the next 4 hours. It hit me around 5am that I hadn't been to sleep in nearly 24 hours. I kept trying to lay my head on the table in between contractions, but at 2 minutes apart, I wasn't getting much rest. The contractions were getting progressively worse, but I was able to breathe through them. They ended up in my back, which was hard but I found that if DH applied some counterpressure, it helped a lot. At around 6am, the OB came back in to check me and I was at 6cm. I was so relieved - part of me was worried that the past 4 hours of contractions were all for nothing and I would still be at a 2. You could tell the OB was shocked too - her entre tone changed. It was like she all of a sudden realized, hey - maybe she can do this. :roll: Maybe 30 minutes later, the contractions started coming one right after the other and I was having a hard time re-centering myself after one contraction to prepare for the next. I remember telling DH, I don't think I want to do this anymore. I finally broke down and asked for the epidural, which they did within 15 minutes. The shift change took place and the new nurse and mid-wife came in and introduced themselves - both were very supportive and I immediately liked them both. They were so excited that we didn't know the gender - apparently, they don't get to experience that very often and they were anticipating the result almost as much as DH and me. After the epidural took effect, the nurse came and inserted the catheder and checked me. She announced that I was 10cm, complete and ready to push. I was SHOCKED :eek: How in the world had I gone from 6cm to 10cm in an hour and a half? The MW came in and I started pushing. I pushed through 4 contractions and we had a baby. DH announced that it was a girl, which also shocked us. My gut feeling the whole time was that it was a girl, just b/c this pregnancy had been so much different, but all of the "evidence" pointed to it being a boy (heart rate in utero, what we thought was a slip-up by the u/s tech, and the fact that DH's family doesn't "make" boys - this is the first girl in several generations on his side.) But a girl is what we had! It went very well - I only had a small 1st degree tear. She did inhale some amniotic fluid on the way out so she had to suction her for the first couple of minutes, but she was fine.
Lana Kay ***** was born at 8:21 am - less than 9 hours from the minute my water broke til she was here. She weighed 6 pounds 2 ounces and was 19 1/4 inches long.
At birth

Mommy and Lana a few minutes after she was born.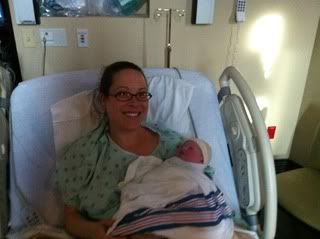 Sweet baby girl - one day old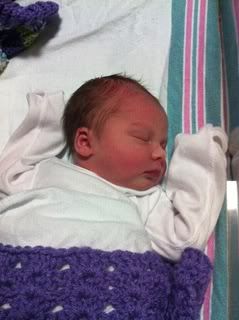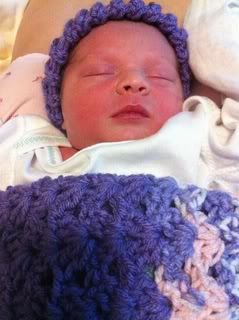 2 days old

My recovery has been so easy - next to no pain or discomfort. The difference between having a vag delivery with healthy, full term baby vs an emergency c/s with a 29 week preemie is unreal. I can't even begin to describe it. My milk came in yesterday and nursing is going well. We are loving the joys of a healthy newborn - I'm in heaven