I finally had the opportunity to photograph my neighbors' six-month-old son! Isn't he a little blue-eyed heartbreaker?! It was my first shoot done in a quasi-studio set-up. I made lots of mistakes, but I think I also learned a few things. Below is information about the shoot. I'd appreciate everyone's feedback before I give the photos to the parents. Thanks!!!!
Setup: ottoman with blue sheet as backdrop about six feet from glass patio doors. Sliding door opened to let natural light in. Walls are painted yellow; Draped wall facing subject in white. Stood in front and to the sides of subject, sometimes outside, on the stairs.
Time: 5:00 p.m.; fading light.
Camera/Settings: Nikon D40, 35mm/1.8G lens; all shots between 1/200 and 1/400; started at f/3.5 and ended at f/2.5; Ugh! Didn't notice until today that ISO was 800. Had MAJOR problems with autofocus (low light/contrast? low battery?). Had to resort to manual focus for some shots.
1. Sorry for the large size on some of these. Not my favorite, but I loved the eye contact. I'm having an issue with red color cast in most of these. Any tips?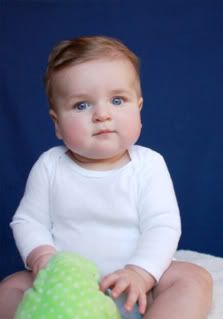 2.

3.

4.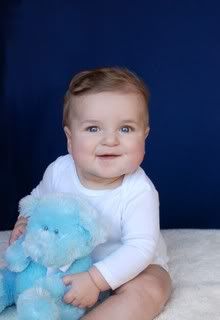 5.
6. The red beanbag is causing major color cast on his face. I've reduced the red but think I need to play around some more.

7.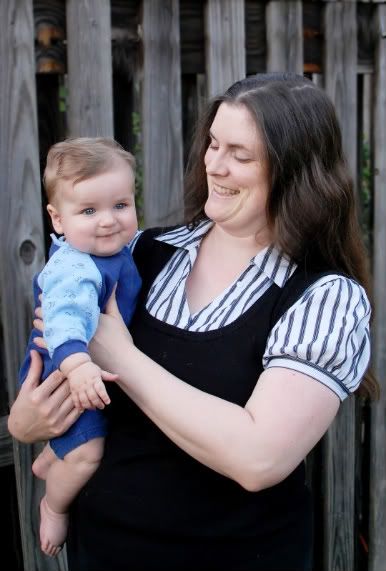 8. Shot requested by parents. Dad's an engineer. I don't like the line the beanbag makes across the picture, but I love his expression.