I took my kiddos out a couple weeks ago and *tried* to get some shots of them together. I had less than fantastic results of couse as both my kids have a serious case of PKS!
So I took this:

and this:

and swaped DS's head to get this: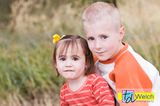 I'm pretty happy with the results overall - just wish DD had a better smile - oh well. Is there anything I'm missing? CC always appreciated...
And thanks again to Krissy (Bumbo Babies) for the awesome head swap tut on ILP.