Hi! I'm Krista (34 tomorrow!). My kiddos are Abby (3.5 y) and Caleb (22 mo). Over the summer I really started thinking hard about myself - I don't have many hobbies and have often wanted something that was just for me, you know? I have a bit of a creative flair - I'm a public relations/marketing professional and I love lots of "artsy" things. I never really got into paintings and such, though - photographs always seemed to have so much more depth and meaning to me. I love looking at them and have very often wished I could take pics like the professionals. So, I decided to start doing some research to see if it's for me. I've spent the past two months or so reading a lot about it - your tutorials here really helped. The problem was, I have no camera.
Then, a few days ago, I was at work and was asked to take a pic of a new employee for her ID badge. I pulled out our office camera and a light bulb went off. The camera is a Sony CyberShot DSC-F828. It's oldish - purchased in early '04. But, it has a manual setting and would be perfect for me to practice with. We bought it when our office had 9 staff members and we did lots more photo shoots internally. We are now a staff of 1.5 and we only use it for ID badge photos. Sad, huh? Anyway, I finally got around to reading the manual and trying it out.
Please bear with me - many things are still very confusing to me and I'm definitely a learner by doing, not reading. So, here are a few I took. The subject is less than interesting, but I'm at work and just couldn't wait until I got home. I think these two are the best.
ETA - these are both SOOC - I have Photoshop CS2 on my computer at work but my experience is with InDesign, so I have absolutely no idea how to process pics. I only cropped these.
#1 - f/2.8; 1/40; ISO-400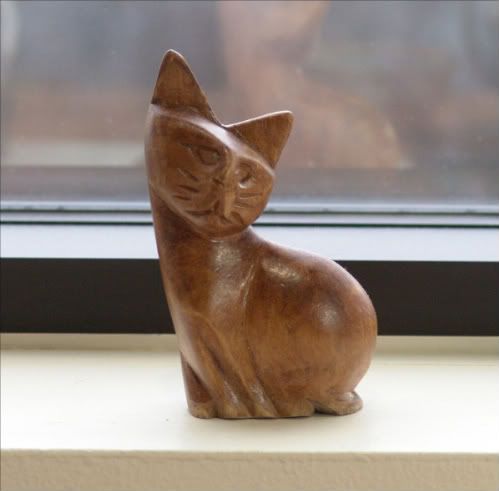 #2 - f/2.8; 1/40; ISO-200; WB set to "incandescent"

So, here's one of my questions - what's up with the WB settings? Do you all use them, or do you leave it on auto all the time? #2 looks really blue, but when I set it to "daylight" setting, it looked really yellow. BTW - the day outside is cloudy and the pic was taken inside on my office window sill.
I'm having a problem with focusing - do you all use the view finder or do you use the LCD screen?
I plan on taking the camera home with me for the holiday and taking lots of pics. I'm so excited!!