Do you all remember me telling you that I had the opportunity to shoot the new baby of the daughter of a co-worker? I spent days scouring ILP looking at other examples of newborns. Let me tell you - it's WAY harder than it looks! First of all, by the time she was able to make time for me, her baby was 19 days old, which is a little outside of the acceptable time frame. Secondly, the lighting in her house was terrible. I chose to shoot in a bedroom with lots of sunlight streaming in the windows. In hindsight, the light was way to bright and harsh, and the slats on the windows made unpleasant shadows. How do you all get around that??
Anyway, I was pretty disappointed with what I did (which is why you haven't seen them yet, but Amber's post about CCing encouraged me to get them out here), but luckily, the mother knew that I had never done this before and she ended up being very happy with many of them. Here are just a few from that day in November. Unfortunately, I don't have the settings of these here with me (I'm at work) - I can post them when I get home later. Feel free to CC on other things, if you like.
My favorite:
Closeup: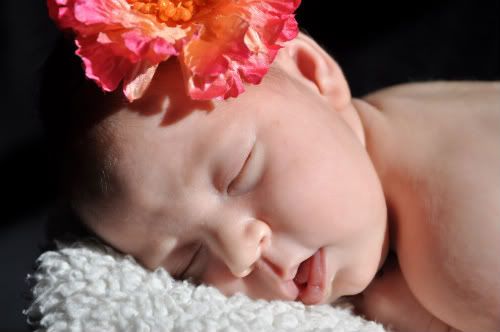 Ugh - those darn shadows in the background!!: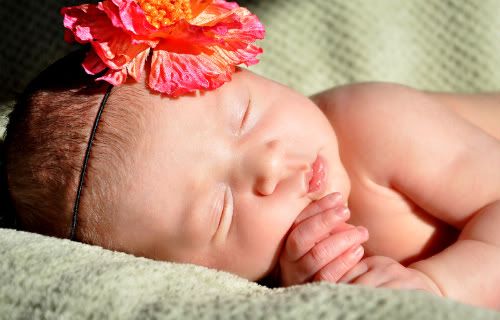 Happily, I'll get another shot at a newborn! Our DCP's daughter is pregnant and due in mid-July. I've already asked her if I could take her baby's picture, and she readily agreed! I'd like to take them on my front porch - it gets the most perfect light in the evening in the summertime. Of course, I'll update you all when that actually happens!