My name is Jenn... I am a preschool teacher during the school year and a SAHM during the summer. I am ANXIOUSLY awaiting summer vacation. Photography is my main "hobby". I'm usually out shooting at least once or twice a week. I posted here on the Nov. 07 BB forever and then just needed a break. Now that summer is coming and I will actually have some time I'm hoping to pop in here more often.
I've been married to my best friend for 8 years, together for 13. We have 3 girls... Claudia (5 1/2), Constance (2 1/2) and Chloe is just shy of a year. They are the love of my life and the reason I got behind the camera. Here's a few pictures to "get to know me"... (unfortunately I don't have the settings and I know they are small... sorry... my future posts I will post settings and upload them bigger)
me... well, most of me...

my oldest... (very sweet and innocent)

my middle... (she is my strong willed, yet HILARIOUS child)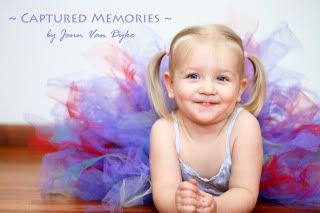 my baby... (a combo of both my older girls, but leaning more towards my middle... God help me!!!)

This is one of my favorite shots of my middle... she is ADDICTED to Toy Story...

This is one of my 1st shots with my new lens... normally I'm not a "nature" photographer, but I was dying to try out my lens and my girls were at g-ma's...

Here's a link to my blog... my BFF Justine works with me... she has a few sessions posted, but the majority are my sessions

http://capturedmemoriesbyjandj.blogspot.com/