Yes, there's milk in the pump, but, NO, it's not from him!
I was pumping after a feed (LO slept 7.5 hours last night, so I have a likely clogged duct again) and LO started crying so I stopped to deal with him... and DS1 decided he wanted to "make milk come out of [his] nipple!" He was thrilled when I took a pic. I wonder when he'll regret it.
He's a complete goofball around LO. Here he decided to share LO's soothie (they have a nipple on one side and a tab on the other, so he sucked on the tab)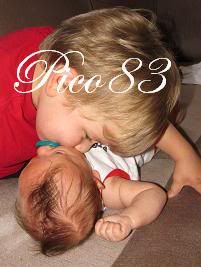 And, during tummy time he and his doll just have to get involved.

When LO got upset and I flipped him over, DS1 and his doll flipped, too (the doll with DS1's help).