So, what do you think?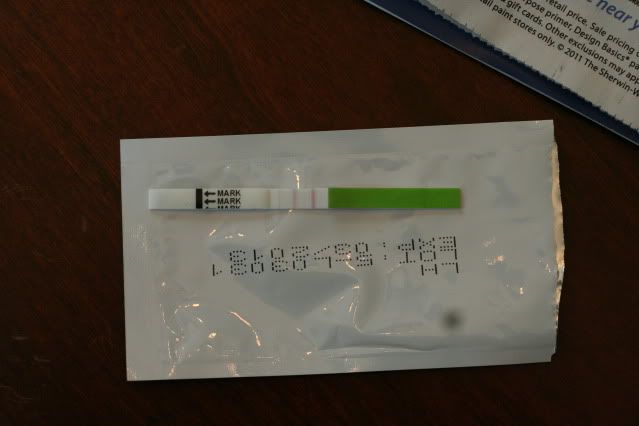 Another prg.org friend and I are leaning towards negative, but I'm not sure. This was yesterday's OPK, so I thought today's would be blazing positive. Nope. Totally negative.
So, I'm not sure if I missed my surge (I usually have a 48 hour surge, so it would be unusual for me to have such a short one, right? Then again, this has been a freakin' wacked out cycle!), or if it just didn't happen. I'm confused.
I'm currently on CD 41 (I average 35 day cycles typically). I've had spotting for the last 4 days, but yesterday afternoon it stopped and now my boobs hurt like all get out. Which is progesterone, right? So I'm wondering if I O'd last night or this morning. Here's my chart: http://www.fertilityfriend.com/home/25cce9. FF is putting O tentatively on CD 31, but I'm positive that's not correct.
I had an u/s last Thursday due to the spotting, and the tech told me I had a nice follicle on my left ovary and should be Oing over the weekend! But she did tell me she can't tell if they're "blanks" or not, so it's possible it's just a cyst with nothing in it, too.
Eh, I have no idea what is going on! Doc said we'll start provera on CD 60 if nothing happens by then, and then she'll put me on lo dose BCP until we TTC (so like, one cycle on BCP and then off. Haha.). Not sure how I feel about that, but she seems to think my ovaries are lazy and I just need some minor hormone regulation.
Thoughts? :confused: