Thanks to my boyfriend for the name of my journal. Hahaha!
Introduction:
Hello everyone. My name is Diana and I am going to be a first time mom. I very excited but very scared at the same time. My boyfriend, Jesse, and I were not TTC at the time, but things happen and I'm glad they did. At the moment I am 9 weeks and one day and my EDD is July 13, 2007. Luckly my morning sickness has come and gone already, not like it really matters cause it really wasn't that bad, just some nausea (I know, I'm one of the lucky ones!) Right now all I want to do is eat everything in sight and I'm doing a pretty good job of accomplishing that! I swear I will be the size of a house by 40 weeks.
My first appointment with my OB was on November 13th. Just your basic Q and A appointment with some blood taking (ahh!) I got a lot of free stuff which was cool. Other then that, very uneventful except when I slammed my elbow on the counter and almost passed out...fun, I know.
At first my OB had concerns about my blood pressure being so high (150/90) and I explained that I get nervous around doctors. She told me to come in and get a retake the next week. So I went in the following tuesday and it was at 140/80....still too high. I had a different doctor this time, for mine was not in that day. She waited about 10 minutes and took it again. 128/79. She was please with this but still told me to come back the next week for a follow up. I decided I would go after I had my ultrasound on the following Tuesday.
Here's my first picture of you baby at 7w4d: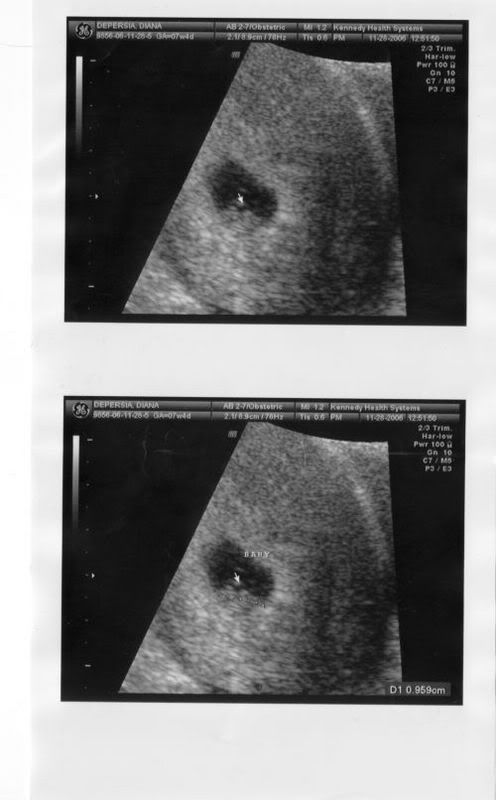 I was so happy! I heard the heart beat and everything! The Heart rate was 137 and I was just in awe when I saw my little one on the screen! After that I knew everything would be alright. I left and went across the street to my OB's office and had my blood pressure taken again. 118/70. The doctor was pleased. My next appointment is on December 13th. I'll be 9w5d. Hopefully they'll set up an appointment for another ultrasound
Well I guess that's it for now. Until next time