This is my pregnancy journal for my second child, whom I have affectionately nicknamed New Baby. I am 7 weeks and 2 days pregnant right now, and am due on October 28th, 2008. My first son turns 1 on October 17th, 2008 - so yes, they are very close in age!
I am so excited to see the kind of bond that develops between them. New Baby was definitely not planned, but is a much-welcomed surprise and truly a gift. We are so happy to be where we are right now. Life is just amazing.
I had my first ultrasound today, and everything is looking great!
:D I am so relieved, because I was really worried for some reason. New Baby's heartbeat was 134 BPM, so perfectly normal for 7 weeks. He/she looked SO cute all nestled in there! I can't wait to post pics - our scanner's all packed up so it probably won't be for a while! Oh yeah, I'm writing this on the floor of our bedroom because the movers came and took all our stuff yesterday. We are moving across the country because my husband Tim just separated from the Air Force. We will be much closer to family and we'll be HOME!
We are both very excited at this prospect.
So far we haven't told anyone yet about our new little surprise. We'll be telling his parents when we get back home, but we'll be keeping it a secret from most everyone else until I get to about 11 weeks. Most miscarriages happen in that time frame, so we'll just be waiting with bated breath and hoping for the best. I am still in such shock - I'm pregnant!!!!
Morning sickness hasn't been NEARLY as bad as it was with Nick, which of course worries me. I seem to get nauseous mostly at night and/or after a big meal. I am really tired, but that's totally normal. And I am sooo surprised at how much more I am showing this time around! Granted, I hadn't lost all of my Nick-pooch yet, but still!
I definitely look pudgier around the middle.
Here's a picture of our pregnancy test: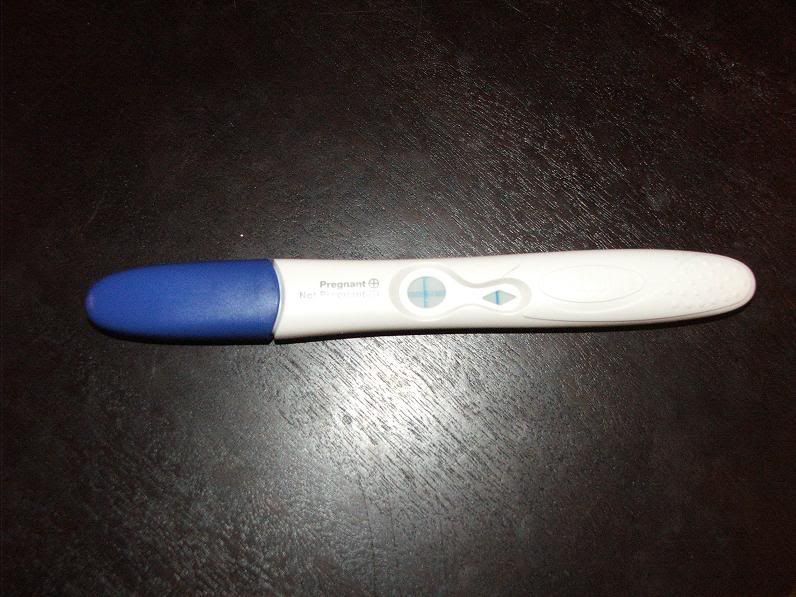 :D I'll be back in a minute to post about how we found out!