Hello Sweet Baby...
This is not the beginning of this journey, but rather, the middle. I'm not sure what has taken me so long to get on Board with writing this journal...but, better late start then never.
So, sweet one, I shall start by saying that, we are so happy that you are on your way. We being your family, myself, dad, your brother Jacob (who is 3 1/2), and your sister Lauren (who is 18 months). Your oldest sister, Rachael Ann, is certainly smiling down upon you from heaven, and giving us the strength we need to help you grow and have a great start in this life.
We found out about you a few weeks after we landed back in the USA, from Heidelberg, Germany. Your dad was stationed there for four years, as he is a soldier in the Army. We must have conceived you the week we landed...our Atlanta surprise!
The first several months of your being, we were so busy with finding a home, moving in, getting settled, and of course, finding good Drs. and a perinatologist to take care of you and me.
I felt pretty good during the beginning of this pregnancy...with only the slight "ickies" that I have experienced with each of my pregnancies. I am truly blessed this way. I of course felt tired, and napped when I could...but otherwise, I am feeling pretty good!
During the 14 week of your life, we found out that you are a girl!!! Hooray for girls! We are so happy that there will be two pretty princesses in our family. I am one of three sisters, so, I know how things can be...but, hang in there sweet one...sisters are great to have. And, your brother wants FOUR sisters...so, he is thrilled that you are a girl.
During your 16th week of life, I went to have a cerclage placed by perinatologist, Dr. Potter. During the procedure, my bladder was perforated, and an emergency repair had to be done. The necesitated the re-opening of my c-section incision, and a two week in bed recovery with a catheter attached. This was probably the most uncomfy two weeks of my life....but, you are so so worth it.
So...here we are at week 22! I "blossomed" around 20 weeks...and I know that you are really growing inside of me right now. I feel you move all the time, which is definetely a comfort to my heart! I love that I am wearing my summer maternity wardrobe this time. I bought such pretty things when I was expecting Rachael. Somehow, I feel even closer to her this time. And, I think that g-d feels the need to bless me with one more precious daughter.
We have not come to a conclusion on your name yet...but, you will be named in honor of your Great Great Aunt Bea(trice), who passed away this past May. She was the Prima Ballerina in our family...and a dear, sweet lady. I can not wait to tell you all about her, and show you her dance portraits! Two names that we are considering are Brooke Rice and Brenna Rice. Rice is your Papa's middle name...and the last name of one of your Great Grandmothers on dad's side.
Well, sweet one, here is an ultrasound picture of you taken a few weeks ago...at 16 Weeks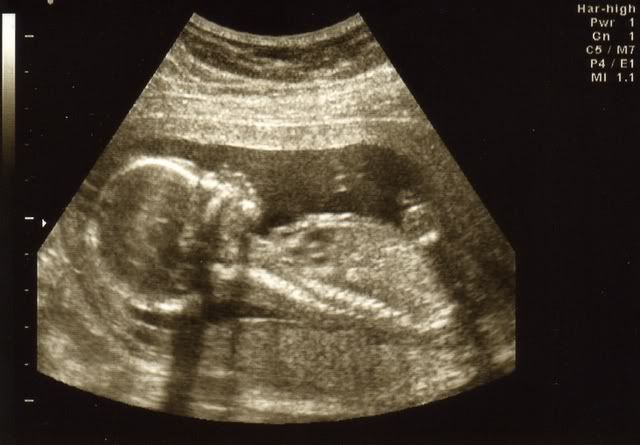 Off to rest...but, I promise to try and write here daily!
I love you!
Mom