November 21, 2009
3 weeks 6 days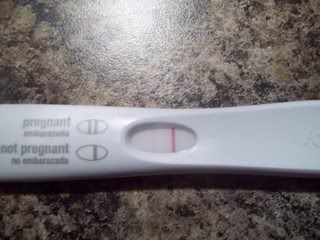 This is what I got on Wednesday morning! I was and still am in shock that I finally got my BFP. This past year has been filled with so much happiness, but also a lot of heartache on this journey to our little miracle. There have been so many ups and downs, but when those 2 little lines appeared in front of my eyes, it wiped it all away!!
My name is Holly and I've been TTC since 12.1.2008. My first two pregnancies were easy and uncomplicated. My first daughter, Addison, was concieved our first month of trying and was born nine months later on 6.1.06. We decided when she was 9 months old to start trying for a little brother or sister and after two cycles, we were pregnant with our second daughter, Lauryn, who blessed us with her prescence on 11.29.07. When she turned 1, we decided to try for our final little miracle and after 3 long, crazy, complicated cycles we were pregnant only to have that pregnancy end in a m/c. I was completely crushed! I never thought I was invincible to a m/c, but after having 2 beautiful little girls with no complications, I thought we would be ok.
After 12 long weeks and 2 D&Cs, I was able to start trying again and finally went to the doctor in July for my wonky periods. She shrugged it off and didn't make it seem like it was a big deal. I wanted a second opinion, and decided to try another clinic. I had a great appointment with a wonderful doctor who ended up prescribing me Clomid. My first cycle was unsuccessful and I was really crushed. My due date was fast approaching and I had a lot of emotions running through my mind. I decided to not temp, use OPKs and try to stay away from preg.org (which was unsuccessful ;)). Well, I got pregnant and here I am!! This is what I've gotten over the last few days: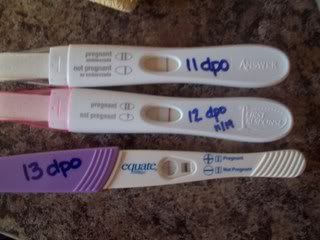 I'm so excited, but I'm terrified at the same time. I'm trying to enjoy every moment of this because I now know that it can be over in the blink of an eye. I hope that at the end of this journey I am blessed with that little bundle of joy, but until I am, I think there will always be a part of me that is worried.
I am keeping this journal to help remind me how precious this journey is. This will be our last baby and I want to remember every detail, good or bad, after the time has passed. I cannot wait to meet our little one. His or her name will be Cameron Keith/Camryn Grace, and we are so excited!!