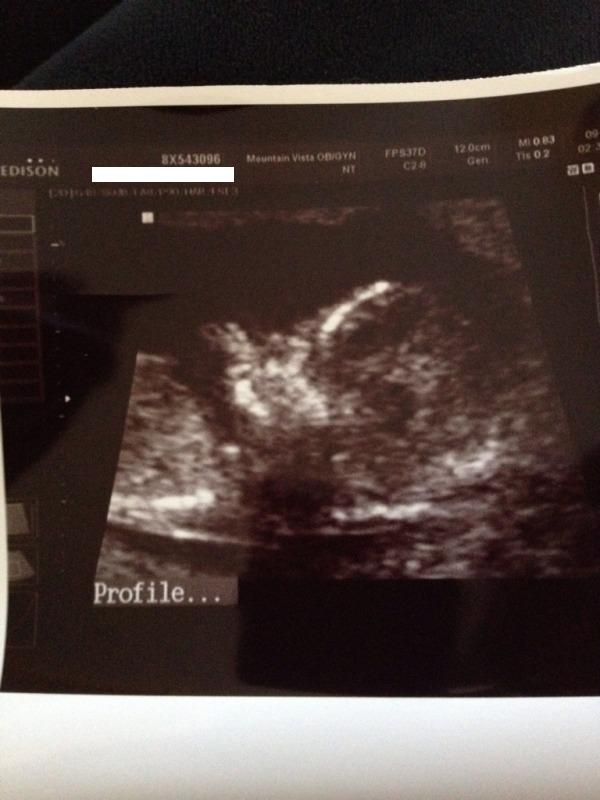 This is her profile with her hand kind of up by her mouth (yes, I said "her" - I'll get to that!)
Looking at her face straight on, plus you can see her belly.
So, love my OB. I was soooo upset with myself earlier because I thought my appt was on Monday at 10, but I guess it was today at 10. Today around noon I noticed that I missed a call from my OB, and that's how I found out that I missed my appt. I called them back as soon as they opened after their lunch hour, and they told me to come right in. Yay!!!!
Baby looks great, heart rate was 166, the NT measurements were normal, everything looks great. She was moving and kicking and rolling around in there, which was extremely cute. Then I asked the u/s tech about an early gender guess, and she said that she would give herself about an 80% success rate, and that she would look and give me a guess if I promised not to paint the nursery yet.
She looked, and although she said that she couldn't say for sure, she was guessing a girl because of a "lack of protuding."
I was very happy to hear that, since I really really want a girl, although of course I will be over the moon no matter what. But for now, we're saying "her." LOL!!!
I'm very very very happy. Baby looks very healthy. I couldn't ask for anything more.