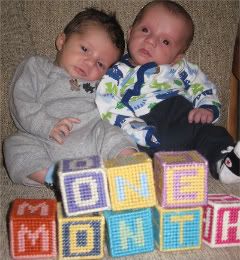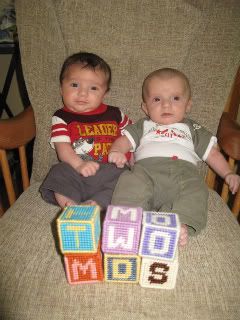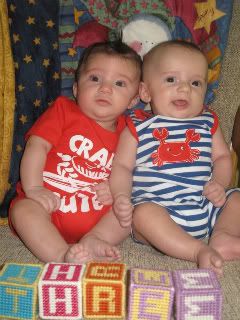 Very cliche, but it seems like they've been here forever and such a short time all in one. I can't believe they're 3 months old.
As stated in another post, they are doing great with sleeping - Andrew's sleeping through each night for 2 weeks now, Ben slept through all last week but this week seems to be very hungry at about 3 AM.
They're taking on average, about 6 ounces at a feed now. And feeding still every 3-4 hours during the day, 2 hours in the evening.
We've sneaked them tiny finger tastes of "this and that" from our plates. (I know, bad mom). They love it.
They're developing a more predictable nap schedule.
As for personalities, Andrew is all smiles and giggles. He loves anything to do with his tongue, making lots of sounds and raspberries and watching your tongue click, etc. He loves tummy time and playing on his play mat. He is a BEAR when he is tired. He's a lot like his sister "When he is good, he is very very good, and when he is bad he is horrid". He puts himself to sleep in his crib now.. Ben is much more mellow. Happy to swing or sit around. Not happy on the belly or the back (flat). He likes to people watch. He is a lot more likely to smile at things far away than close up. I worry about him... cognitively. Have since he was born. He refuses to make eye contact. Ben can roll from back to front and front to back. Ben loves his pacifier and his mother especially. Andrew prefers a deep voice and will take any warm body or smiling face.
During the day they are terrific. Once 5 o'clock hits, it seems like all hell breaks loose around here. I am ready for the summr to be over for Ava to go back to school. She is sooooo bored here with us.