I have about 5 more pages to complete for the 2008 scrapbook and THEN I can give it to Randall. I had planned on finishing it up tonight while he was at work, but we ran into some problems in the kitchen, so tonight won't be a scrapping night. I might even go somewhere for the night...who knows.
Anyways, these are the 6 I scrapped the other day. I was pleased with how most came out.
This is the one I am not fond of. Just don't care for it.
Journaling says: "Ruthie did really good at her first haircut. Mrs. Debbie did a wonderful job!"

This one I do like. I feel like it needs more, but I am okay with it.
Journaling says: "Ruthie loved to sit and "read" her Bible, even though a lot of times it was upside down. It always made us feel good to watch her grow in the Lord at such a young age."

This one didn't turn out like I had planned, but I think it turned out better! I love this one! The stamp says: "You are inscribed in the palm of His hand." Isaiah 49:16

This one was fun to make. This is only the 2nd page I have ever made with one 4x6 photo. It's hard, but it's one of my favs!
Journaling says: "Randall and I were so ready to make Ruthie a big sister! We prayed hard and God delivered! What an amazing God we have! Ruthie told us the baby was in her belly! She was really excited!" And the stamp says," Ask and it will be given to you; Seek and you will find, Knock and the door will be opened to you. Matthew 7:7"

This one is probably one of my favorites out of the whole book. Letter were cut from Opposites Attract. Arrow from Home Decor.
Journaling says: "2008 Summer-time at Grandmama & Pappy's pool creates so many memories. Ruthie began swimming with her Speedo jacket and shd finally felt comfortable. The steps were still a favorite spot for her. She loved going for a dip!"

This one wasn't how it was supposed to look, but it's fine. I really wasn't happy with my choice of papers. Oh well. "Memories" cut from Home Decor along with the arrow, and the "SDC" is cut from Opposites Attract. I need both of those!
Journaling says: "Silver Dollar City was a blast this year! It was a long awaited trip! Ruthie saw pics of the rides and talked about the constantly! We almost got rained out, but we waited it out and had a ball! We can't wait until next year!"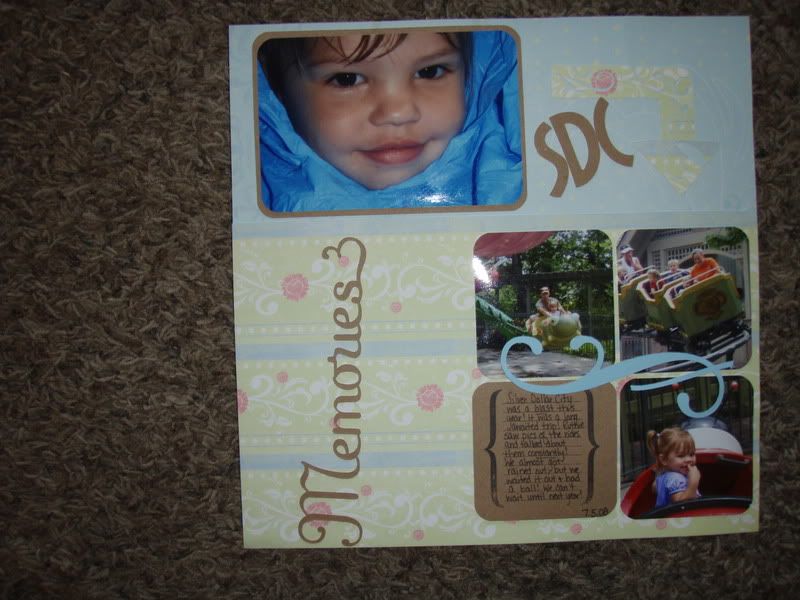 Thanks for looking!