So I searching for some freebies today and I came across this awesome template: http://weedsandwildflowersdesign.com/blog/?p=1022 and thought it was awesome. So I went right to work and here's my finished product: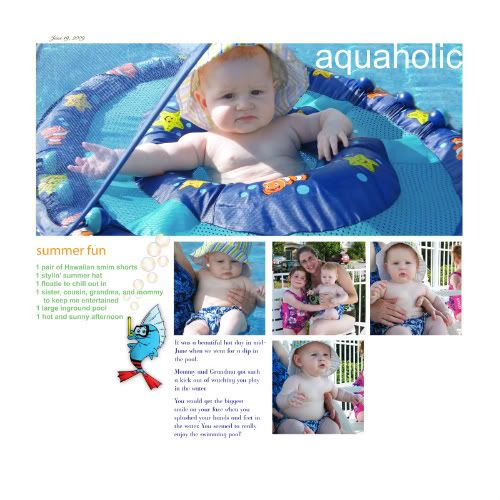 Journaling reads:
summer fun
1 pair of Hawaiian smim shorts
1 stylin' summer hat
1 floatie to chill out in
1 sister, cousin, grandma, and mommy
to keep me entertained
1 large inground pool
1 hot and sunny afternoon
It was a beautiful hot day in mid-
June when we went for a dip in
the pool.
Mommy and Grandma got such a kick out of watching you play in the water.
You would get the biggest
smile on your face when you
splashed your hands and feet in
the water. You seemed to really enjoy the swimming pool!
-------------------
I am loving this template! I can't wait to use it again!!
To see what others have done with the template (it just came out today, so there are only a few), check this out: http://www.weedsandwildflowersdesign.com/gallery/showgallery.php?cat=506&page=1
I think this is a site that Trina is active in.... I hope she does this challege so I can see her take on it!