I did this layout for the water challenge. It took a few days because once I realized what I wanted to do, I had to have more pictures printed. I got a square punch a few weeks ago and been using it sporadically. Then I got the brilliant idea to use it on photos to make my embellishment. So you'll see Jack's sandy foot in one square, the kids playing in the water in two more, plus assorted water and sand pictures (including one sand footprint, not sure if you can see that from here). I am so pleased with this layout!!!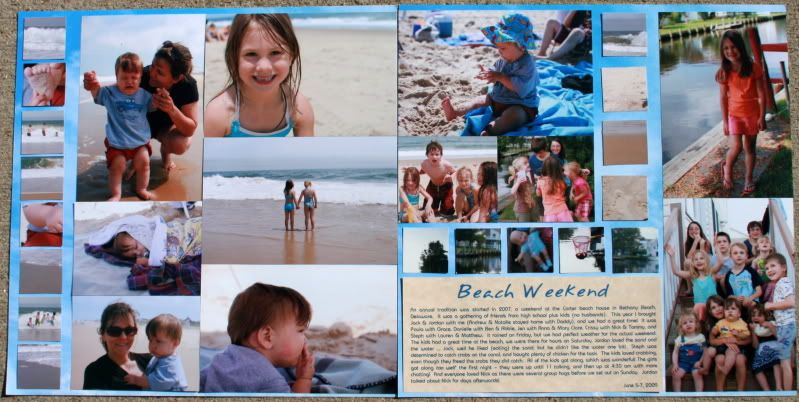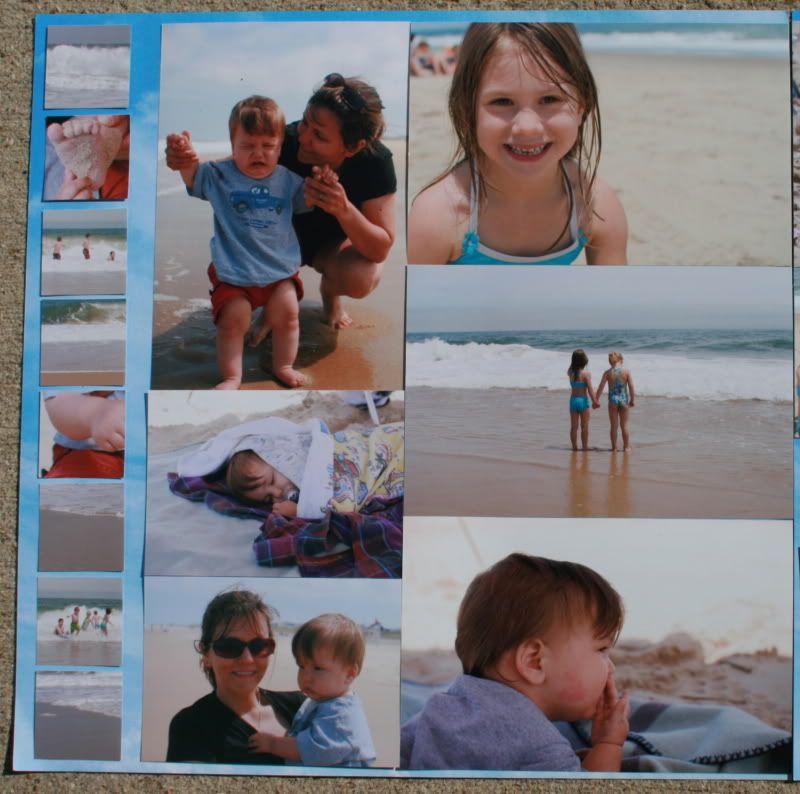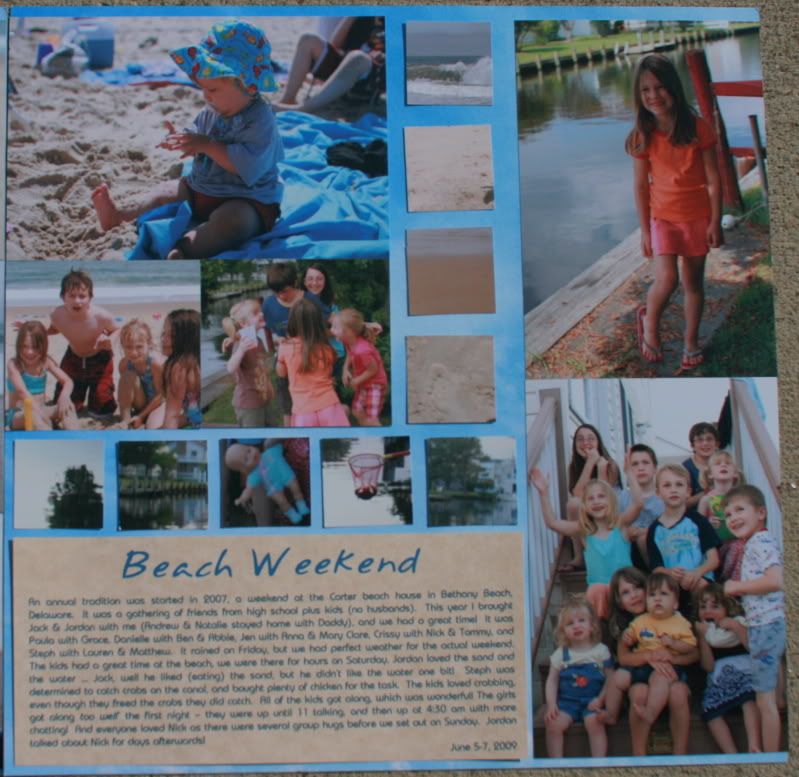 Journaling:
Beach Weekend
An annual tradition was started in 2007, a weekend at the Carter beach house in Bethany Beach, Delaware. It was a gathering of friends from high school plus kids (no husbands). This year I brought Jack & Jordan with me (Andrew & Natalie stayed home with Daddy), and we had a great time! It was Paula with Grace, Danielle with Ben & Abbie, Jen with Anna & Mary Clare, Crissy with Nick & Tommy, and Steph with Lauren & Matthew. It rained on Friday, but we had perfect weather for the actual weekend. The kids had a great time at the beach, we were there for hours on Saturday. Jordan loved the sand and the water … Jack, well he liked (eating) the sand, but he didn't like the water one bit! Steph was determined to catch crabs on the canal, and bought plenty of chicken for the task. The kids loved crabbing, even though they freed the crabs they did catch. All of the kids got along, which was wonderful! The girls got along too well" the first night – they were up until 11 talking, and then up at 4:30 am with more chatting! And everyone loved Nick as there were several group hugs before we set out on Sunday. Jordan talked about Nick for days afterwards!
June 5-7, 2009
-----------------------
I have more layouts in the planning stage but now that school is out, I'm not sure when I will find the time. I counted, I have 38 layouts waiting for me to do. And the downside of my photography hobby is that I end up with more layouts that I want to create.
I'm not done my sewing yet either, I have a few projects I HAVE to get done this month. I have too many hobbies ....