I posted this on the digital board.. but I wanted to get your thoughts on these as well....
I'm still learning to use photoshop elements... so i've been playing around with birth announcements the past couple of days. The pictures really suck, i know (grandma took them!) so i did the best i could with them... i do need to tell her to at least be at eye level when she takes them. I had to crop every one of them to be able to use them... she definetly does not have an eye for photography!! Anyways.. i'm hoping she'll send along some more so my SIL can actually use one of these if she wants to.
I made 6 of them... some I like better than others and are not perfect by any means.. I'm sharing with you all to see if you have any suggestions on them. (I showed my hubby and he didn't have 1 good thing to say about any of them! - piss me off - i'd like to see him try to do it!!!)
So.. give it to me ladies. I'm opening myself up.. (be gentle though..
)
1.
2.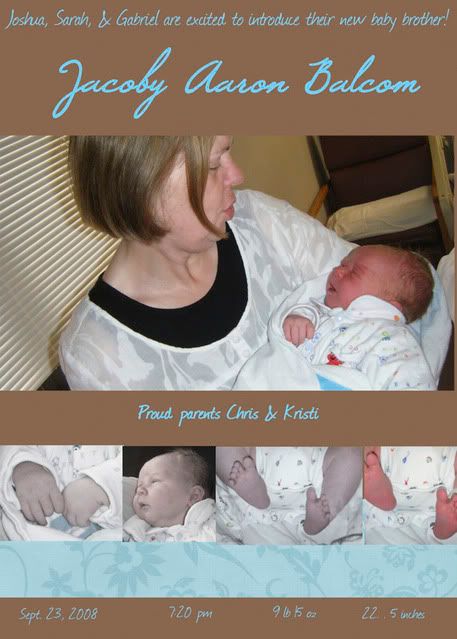 3.
4.
5.
6.