Here's a card I made for my MIL: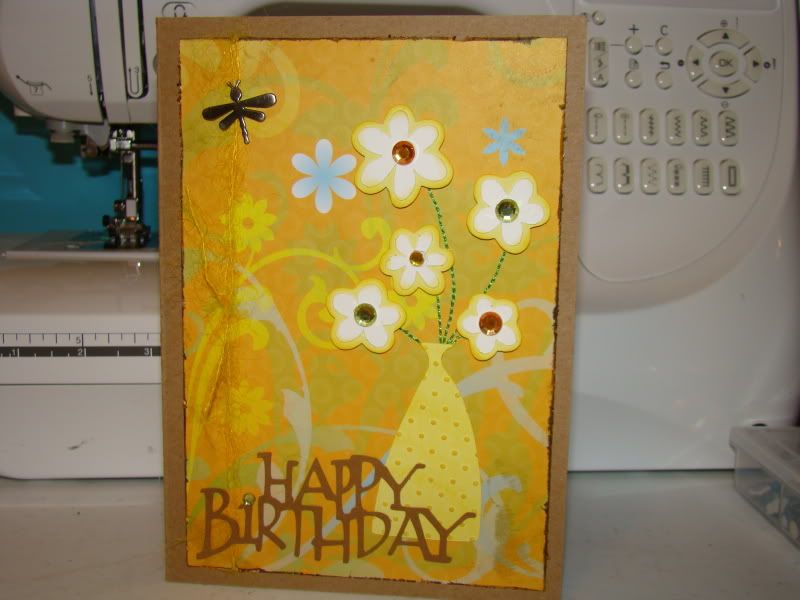 The Backyard
And this morning I let the dogs out. Ginger wouldn't come back in and Bear aka "freak" wouldn't go out (he has social anxiety!!!! :()
I had to drag Ginger in from the backyard and couldn't figure out what her problem was. Well, this afternoon we figured it out. We have a robin nest in one of our trees. We found a baby robin that must have fallen out or something b/c it was dead on the ground. Then there is another baby who has left the nest that is trying to nest in a bush (Ginger ain't having it)! DH found the nest. Here's some pics that I took to share with my 1st graders. I know, I'm a dork!! I'm going to read Are you my mother tomorrow.
UGHHHHH!
We got a letter in the mail yesterday that our social worker is leaving in 10 days!!!!! Her DH's work is transferring them out of state. I'm majorly bummed b/c we are used to her and she's used to us. Even though nothing seems to go right. DH says he thinks a change of face will be nice but I'm really uneasy about it. I guess we'll see. I'm going to call the new SW in a couple of weeks and try to meet with her since we have never spoken with her. I hope this is not one more thing to set us back! :mad: