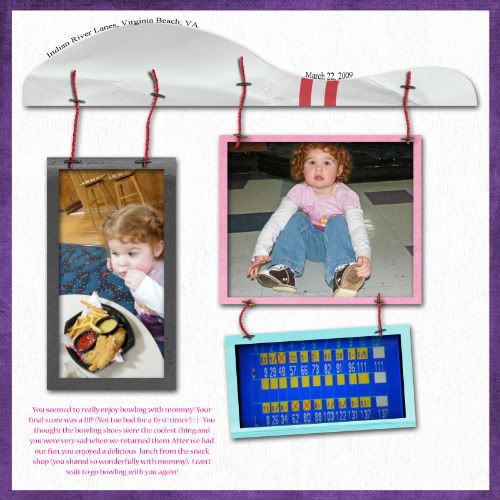 Journaling on the first page reads: "Mommy wanted to spend some "girl" time together. So you and I spent the afternoon bowling! Mommy helped you roll the ball down the lane, but for the last frame, I let you roll it yourself. You gave it your all, but that pink ball didn't seem to have enough umph to make it down all the way! Mommy had to ask for some assitance so we could finish up the game. You were such a good sport Cadence!!"
Second page journaling: "You seemed to really enjoy bowling with mommy! Your final score was a 111!! (Not too bad for a first-timer!)
You thought the bowling shoes were the coolest thing and you were very sad when we returned them. After we had our fun, you enjoyed a delicious lunch from the snack shop (you shared so wonderfully with mommy). I can't wait to go bowling with you again!"