It has been so difficult to get anything done lately. My scrap area is a disaster and filled with 12 packs, laundry and other stuff that shouldn't be there. I need to unpack my travel bags too and get my stuff back in order. Sigh.
Here's a wedding card for my cousin who's getting married next week. Colors are the blue I used, silver and cream. Those silver dots literally took me an hour to get off the sticker sheet, onto tweezers, lined up and placed. So worth it for my cousin though.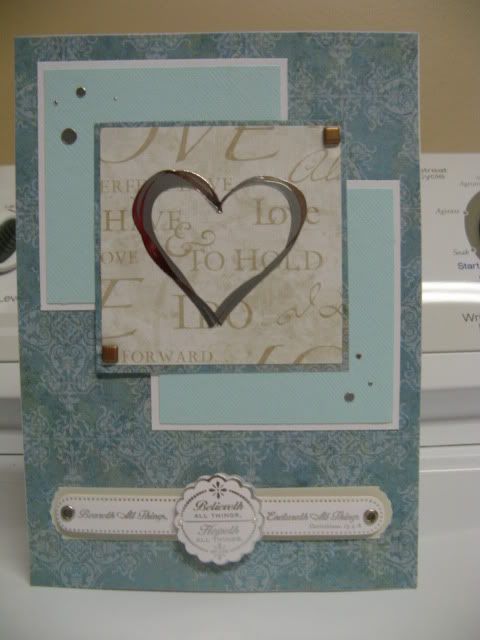 Inside

Now the WIPs
This is a baptism card. I need to put her name in the upper right hand corner. I need to also glitterize baptism and blessed to make them stand out more.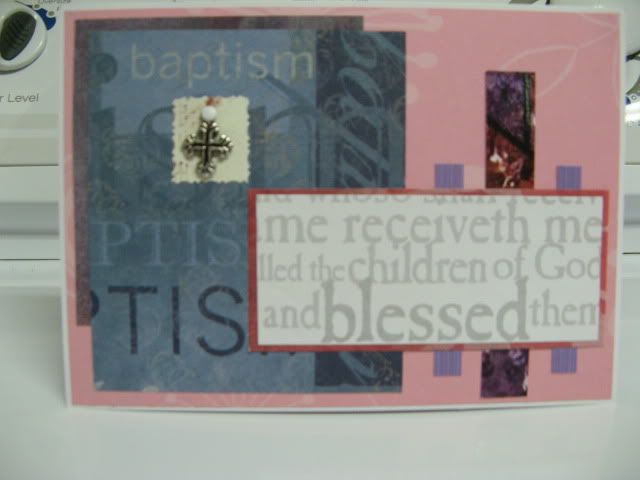 The card is for my new goddaughter, who was baptized on June 28th. Present still hasn't arrived yet so I don't feel like a TOTAL slacker.
And this is the recipe book I was conscripted into making. I made one for my sister-in-law and she loved it so much she e-mailed the entire family for recipes and said I would make one for our cousin getting married. She just forgot to ask me. LOL So I had paper left in the pack from making hers, but not the stickers for the tabs, etc. I had to improvise. The cardboard that makes the base is thinner and I hand wrote the tabs. It's turning out nice... I just need to figure out how to spice up the inside divider cards. They need something more then just the original sheet of paper. I need to make a "contributed to by" sheet too. Anyone have any ideas for the front cover of the divider tabs?


(There are 4 different designs for the divider tabs)