We are going to a co-workers wedding on Saturday so I made a card and wanted to share: her colors are red and white
I'm working on getting an etsy store launched so I've made some tags... I'm going to sell them in groups of 3 for at least a $1...still trying to decide if I want to do 3 of the same or 3 different. So here are the first 3 I've made. I've made 3 of each kind. The candy cane one is stickled, and the snowflakes are also stickled. I'm still trying to figure out what to do to spruce up the Joy tag.
Okay I've added Sweet to the candy cane card since it would fit the best and the inside will read Christmas Wishes. (thanks charys) I'm going to switch the stickles on the lettering from every other one in a different stickle to all stickled with red and I went back and stickled the whites of the candy canes.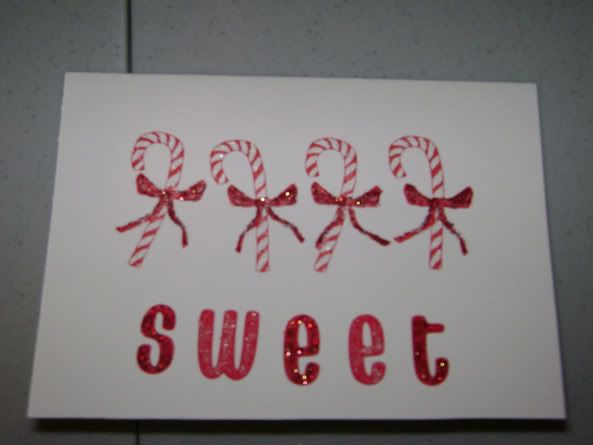 Now for Help
Another co-worker asked me to make her a card for the above coworkers wedding. I don't want them to be the same at all. So I'm thinking of using either one of these papers and either putting Vellum on top and putting Love in pretting script from opposites attract on top in the other color. So if I use the Red roses the lettering would be white ontop of the vellum and vice versa.
Is that a good idea? Anyone have a better idea or want to share wedding cards you've made?
here's the papers...sorry it's blurry