Color blocking is one of my favorite methods of scrapbooking. It's pretty easy to do and makes really nice pages. Basically, you pick papers in coordinating colors and arrange those papers and your pictures on your page – most commonly this is done using rectangles and squares of different sizes. But I've seen pages using circles too. Keeping your edges straight makes it simple though. The beauty of color blocking is that you can do it with both paper and digital scrapbooking. For paper scrapbookers, there are templates you can use to make it easier. I'm sure the digi world has similar templates.
For this class, I'm using three coordinated papers (one for the background, two for mats/title), three photos, and embellishments (for my page, I had flowers that were part of patterned paper – I planned on using three, but only ended up using two).
1. You'll want to have your pictures, a ruler, the paper, your adhesive, embellishments, and an idea of what to journal. It's easiest to pick your paper colors based on the colors in your photos.
For my photos, Natalie's wearing very bright colors in her dress and more subtle colors in her tights. My background paper matches the "loud" dress colors, then I picked a brighter pink and a subtle purple to use as my coordinating colors.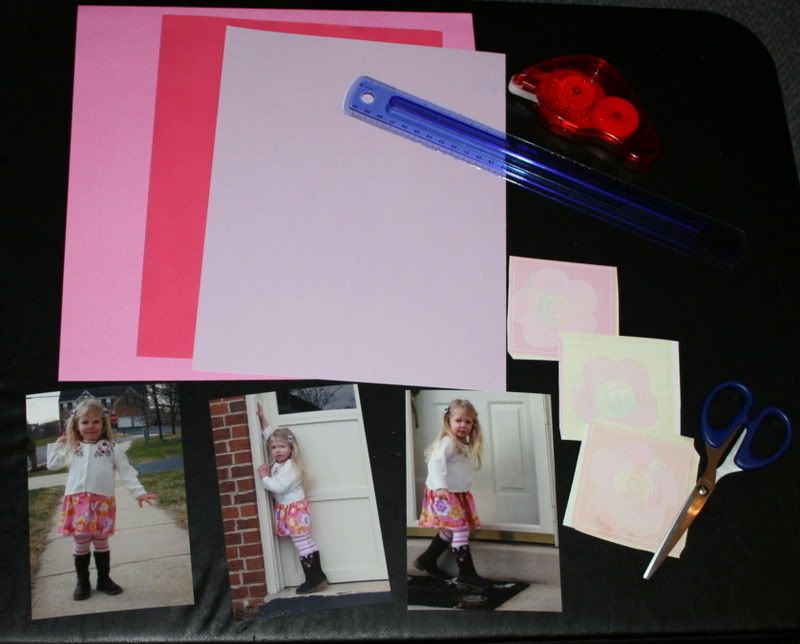 2. The next thing you'll want to do is trim your pictures so that they'll fit nicely on the page, yet have some consistency. For my photos, I kept the height the same (trimmed to 5½") and then varied the width – on the larger photo, it's 3½" wide, and on the two smaller photos, I trimmed to 3" wide.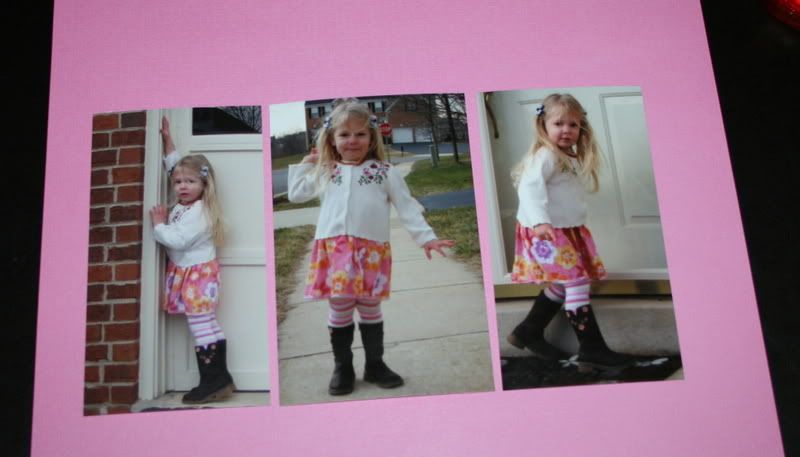 3. I don't have a photo of the next step, but cut a strip of one of your papers for the title. The strip I used is 11" wide and 1½" tall. Think about how you will do your title - you want the strip tall enough if you're using big letter stickers or a certain size on your Cricut. If you're handwriting your title, it's not as big of an issue.
4. You can choose to mat your photos with one of your coordinating papers. I usually mat, but decided not to for this layout. Instead, I matted my embellishing flowers (and for color blocking, it's a good idea to create a mat for your embellishments if they are not in the same shape family as the rest of your elements). I inked the sides of the flowers with a bright pink ink. (The flash kind of drowns these out though) These mats are 3"x3" so that they are the same width as the two smaller pictures. It's best to keep things similar in size so the page flows nicely.

5. Forgot to take a photo here too … but lay out what you have so far so that you know what kind of space you have for journaling. Then decide what you want to journal – the journaling looks nice matted on one of your papers (and I printed mine on the purple lighter paper). Go ahead and journal.
My journaling block measures 3½" to coincide with the width of the largest picture, and is 3" tall so it's the same height as the embellishment mats.
6. Start playing with how you want to lay everything out on the page. Here's mine before I stuck anything down (the title letters aren't glued down at all). In retrospect, maybe I should have taken a picture of this when it was something I wasn't happy with since the next picture almost looks the same.
Oh, well, I know for next class!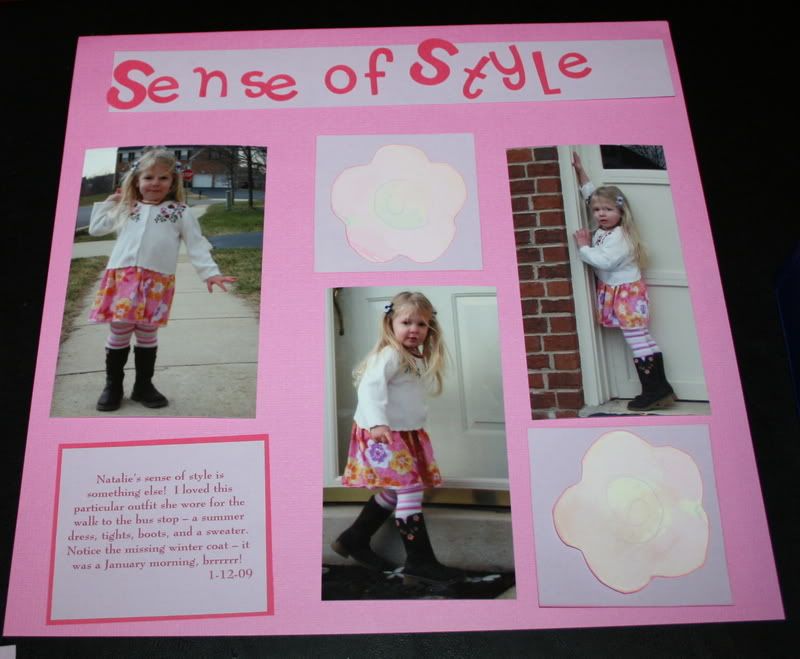 7. Okay, now glue everything down if you're satisfied with colors, sizes, etc.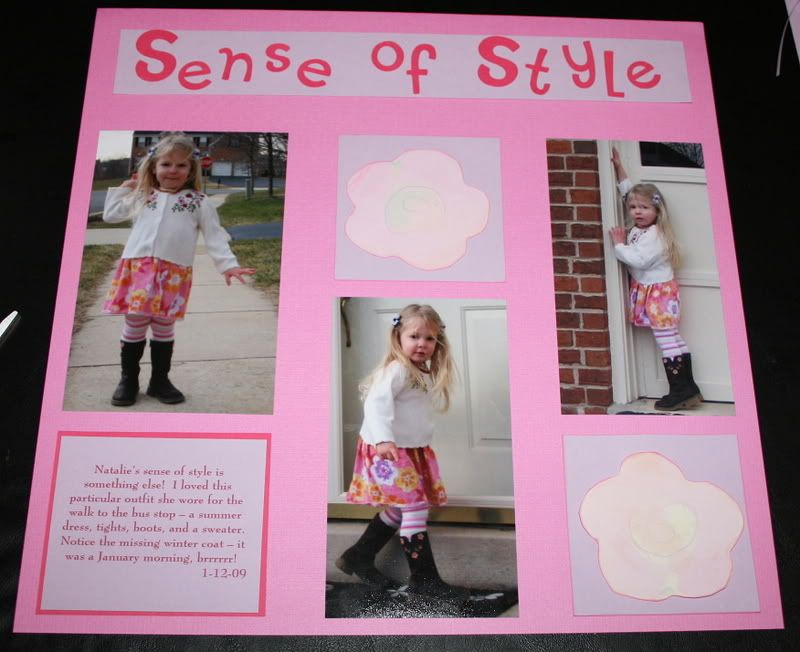 8. Look at it – is there anywhere else you'd add color? I thought about adding some veritical strips of bright pink because it felt a little boring. Then I remembered that I have bright pink ribbon - perfect!
All done!!! See, that was simple, but it looks nice. I love sticking with the geometric approach with the squares and rectangles, and coordinating papers. I normally don't use embellishments as large as those flowers, but it worked out well.
Now you try.