We went to see Disney on Ice on Sunday and it was awesome!!! We all had a great time!! So i scrapped some of the pictures... I will probably scrap another page or 2 though, but thought I'd share this one.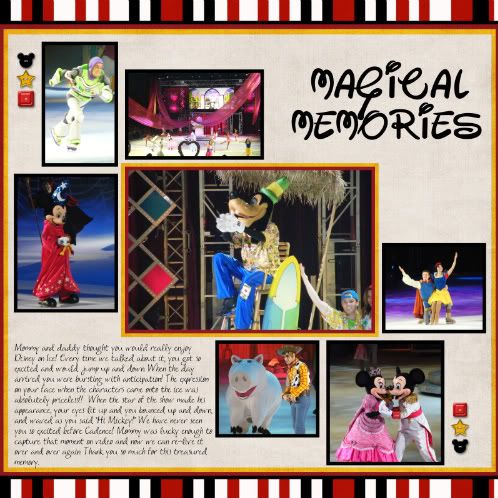 Journaling reads: "Mommy and daddy thought you would really enjoy Disney on Ice! Every time we talked about it, you got so excited and would jump up and down. When the day arrived you were bursting with anticipation! The expression on your face when the characters came onto the ice was absolutely priceless!! When the star of the show made his appearance, your eyes lit up and you bounced up and down, and waved as you said "Hi Mickey!" We have never seen you so excited before Cadence! Mommy was lucky enough to capture that moment on video and now we can re-live it over and over again. Thank you so much for this treasured memory. "
Here's the video I took of her in which the journaling references.