As I was downloading kits and looking at the CT examples I realized that I had been creating my digital LOs as if they were paper LOs, and that I could probably start using a little more creative freedom when I'm doing digi scrapping, especially when using the different elements and embellishments.
So anyway, I may start trying to do some of that soon, but in the meantime, I started working on this two pager last week, but haven't been entirely happy with it.
This is the house that I grew up in, and my dad and brother are renovating it now. They ended up taking a break this summer because my dad had to have some heart surgery. Anyway, I will probably have lots more LOs as the renovation continues.
I figured I could also use this for the brown challenge. Didn't know if I should just put one of the pages or both?
I always see lots of little things I need to "fix" once i upload them. Haha, I'll need to go back in and make a couple of changes before I upload either page.
Linked to Shabby Princess Free Download (still available)
I just love this picture of Cadence swinging and wanted to scrap it.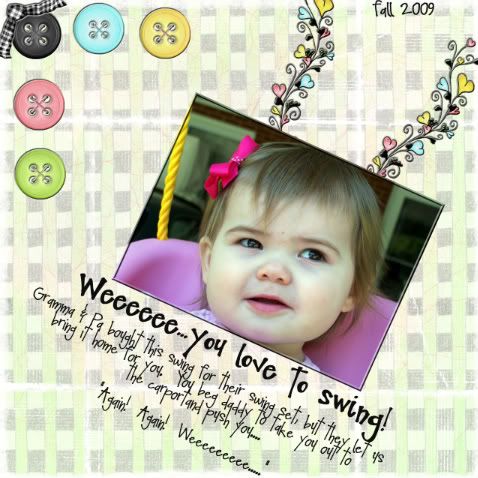 Will try to link this in a bit...gotta find exactly what I used! Okay, can't figure out the link, but the page that I downloaded with it says DesertScraps.com A Little Love - but when I go to that webpage I can't find it.
Tomorrow I plan to finish up my Phone Tag LO and start scrapping some of my SNOW DAY pics!
Thanks for looking.