I just finished my first big order- 30 invitations to a Christmas Tea for my MIL. She was adamant about having pink, sparkly, Victorian based writing and poinsettias to make it Christmasy.
Materials wise it cost $.61 per card. I charged MIL at cost (since she's family). She ended up buying me a year's supply of gluten free flours (25lbs brown rice, 25 lbs cornstarch, 25 lbs tapioca, and 4-16oz bags of potato starch) as a bonus because she was so pleased with them.
She also asked me if I'd take orders. She says she has a friend getting married that would love my work. She also said she had several friends looking for quality cards to give to their secret pals. She told me her friends are used to paying up to $5 for a card like my invites, so she is going to handle pricing for me so I get fair value for retired old people who winter in Arizona. Hopefully this garners up more work.
I'm not sure the poinsettias were needed, but it fulfills her wishes.
The sparkle factor is in the paper (used either shiny or sparkly paper for almost everything).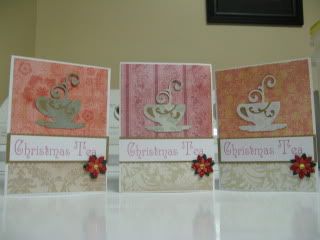 Close up