Alright, here we go! Randall really enjoyed looking at it. He loved how I scrapped some of the simple things in life, not just the big events.
This one was from our 5th anniversary:
Journaling: May 31st, 2003, I married you and I haven't looked back. Five years later, we headed back to Hot Springs and truly enjoyed ourselves. You are such an amazing husband and father. I love and adore you!"

Halloween:
Journaling: 2008 This Halloween you had so much fun! You were so excited to be a princess. You chose it all by yourself. We went trick-or-treating with Ammy Jo and you both had a ball! You were not ready for Halloween to be over."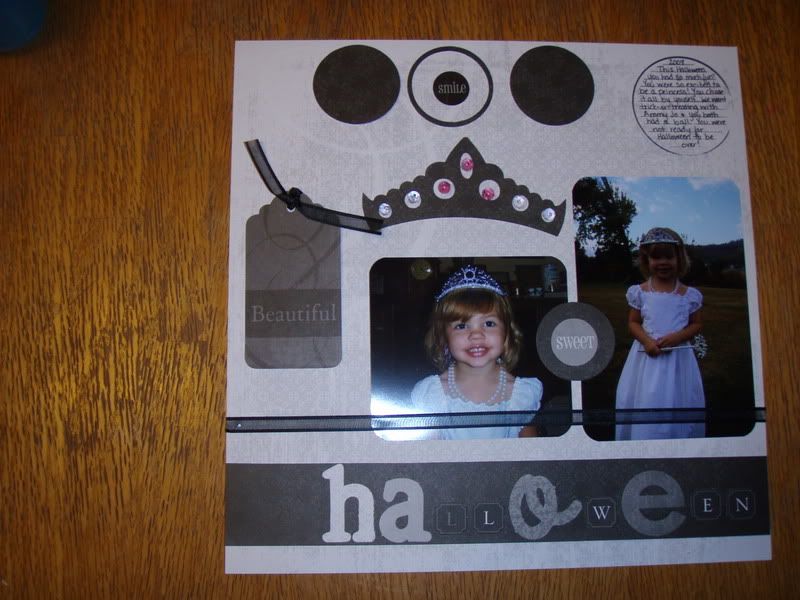 Jazz & Hondo:
Journaling: "Ruthie wanted a kitty and Mommy wanted a dog! Why not get both?! Jazz is wonderful with Ruthie and puts up with so much! Hondo is huge and full of love. He does well for his size. They are both treasured pets."
Title cut from Plantin Schoolbook and cat & dog cut from Paper Pups

Lil Randy: R cut from Opposites Attract

Christmas:
Journaling: "This Christmas was amazing! All Ruthie wanted was a flashlight and Bee Movie. She still wasn't fond of Santa, but she did talk to him once! She loved everything she got! Christmas 2008"
Title cut from Opposites Attract (magical) and Beyond Birthdays (Christmas).

Last year, I ended it with a note to Ruthie. This year, I made it all about 2008. I just printed it off on the computer and zotted it to a pretty piece of paper. I was happy with how it ended.