Hello! I've been saying since I was pregnant that I was going to start scrapbooking. I amassed a huge stash of supplies to start paper scrapping - but never really got off the ground. I think I struggled because I'm not all that creative - so all my LO's were extremely boring.
After my daughter was born, I because interested in photography, and that hobby has really taken off. I've decided that my scrapbook pages don't have to be terribly exciting - as long as they get completed eventually! My poor daughter is almost one - and all we have to show for it is a harddrive full of photos. I decided digital is a good fit for me, since I have been learning Photoshop (Elements 4.0) anyway to tweak my photos.
I completed my first page - finally. It's just a 'title' page that I expect to be the first page in the scrapbook - without a facing page. I wanted to keep it simple - focusing on one photo, and without a lot of other junk. I tend to like very simple layouts anyway - and for this one, I wanted the photo to truly be the focus.
But... do you think it's TOO simple? I plan to work on a two-page layout that will follow this with the other pictures from the hospital - so perhaps I can jazz those up a little more - but I was thinking this might work - it's simple and elegant?
What would you do, if this was your layout? I know everyone's tastes are different - but thought I'd just see what you all think!
ETA: It's hard to tell now that it's posted - but the background is solid - but it does have some texture... It looks very lame for some reason on this post - like the texture doesn't show up...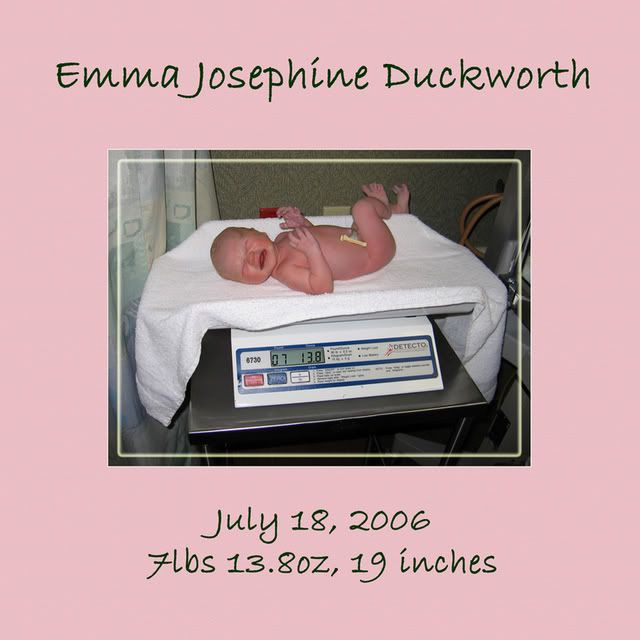 By the way - I hope you don't mind me joining in - I hope to be around more as I play and get more pages done! I've really enjoyed looking at the pages I've seen on this board!