Hello from my new computer! So far it's liking pg.org so I should be back. Well sort of. I received the shipment for our computer on Friday and then we had a major internet outage in our area from Friday afternoon through this morning. So I'm frantically trying to get everything installed now because....
I'm going away for a couple days. It's our tradition. Advent and Lent are so busy for a Pastor's family that our family life suffers. So the moment Easter service is done with, we hit the road. This year is lower key, but we always go somewhere and stay a couple days. This year we're going to Mankato- which is our main "everything" shopping town. We'll only be staying in a hotel tonight only because Caleb has school on Tuesday and my husband's church is the host for conference this month (also on Tuesday). But we'll have most of today and tomorrow for ourselves. We plan on swimming most of today at the hotel pool. Tomorrow will be shopping. I get to look at stamps at Hobby Lobby!!!!!
Before I leave I thought I'd show you a "miracle". I scrapped. Okay, okay, it's not my first time scrapping and it's not really that great of a page. But I did.
Caleb's teacher is making a class scrapbook and making copies for each kid. We needed to provide a 3 ring binder for the pages and the one I bought had a clear front and I just couldn't leave it like that, especially since I needed to label it anyways.
Out of the holder...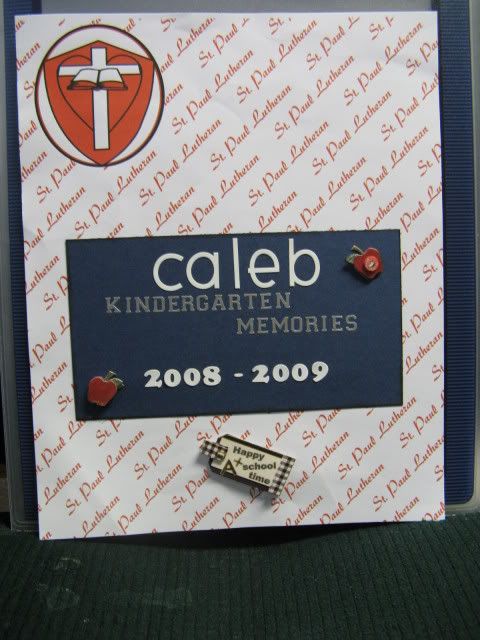 (Please ignore the water stain on the chair. Yes it's water. Our water is THAT hard.)
The local "hometown" pharmacy in the town he goes to school in sells scrapbooking paper for all the schools, with their logos and in their school colors. I bought 3 sheets when he started there and then have always been afraid to use it and "waste" it. So I was happy to finally put it to use!
In the holder