Okay, I want to start off by saying I will never attempt embossing a whole piece of paper (12x12) again. What a fiasco!!!!!!!!
I wanted silver paper for this layout, but I didn't have any. I have a clear embossing stamp pad so I tried running it all over the paper and then using silver embossing powder. Well it turns out the stamp pad didn't really cover the whole paper. And even after using the heat fun for several minutes, I still had a TON of silver powder everywhere. I'm going to be cleaning up silver powder for a long time to come. I did that part on Wednesday (I think) and left the paper to finish this layout when I had more time. Well, finally got to it tonight and I have to say that these jeans have to go right in the laundry, there's silver powder all over my legs. Ugh. I did dump the excess powder before I used the heat gun (I can't even imagine how much is now stuck in this berber carpet). Ugh.
Anyhow, sharing my saga so that you never try it. ha ha ha ha ha I'm going to buy a silver piece of cardstock the next time I go to AC Moore and will toss this nightmare of a page after I take the pieces off. I didn't even put it in the book temporarily as I wanted to limit the silver powder in the page protector.
Here's the paper right after I used the heat gun on it: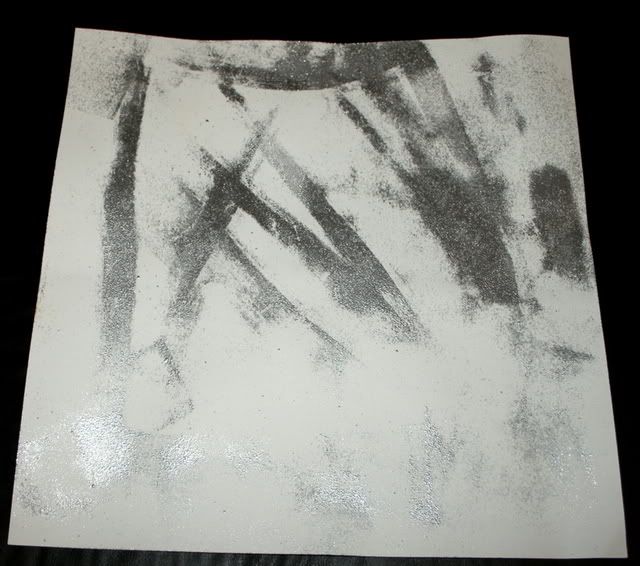 And here's the final page - I'm happy with the overall layout, and can't wait to get a piece of real silver paper.
The cross is attached with a brad and I cut the surrounding cardstock so that it shadowed the cross (thought I'd tell you because I don't think you can tell so much from the photo of the page)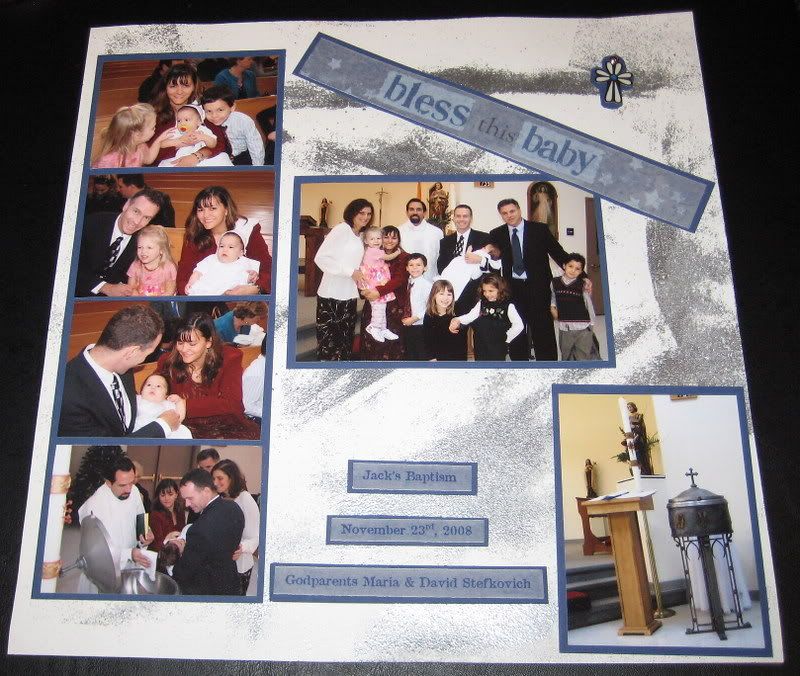 This is probably my last page for a short while. I have to start tagging everything after my dad leaves on Sunday (he's not here yet, he's only spending the night as he's flying out of the airport by us on Sunday). My guest room is my crop room and my consignment nightmare room. ha ha ha The sale is two weeks from tomorrow ... and DH is out of the country until then, so I have to try to manage my time wisely to get it done. (But I'm going to do that color blocking class as a forced creative break from the tagging). However, if I get that silver paper soon, I'll post the new version then.