My friend and I were put on the dining room committee for the Ladies Aid Rally. This is a bi-annual mission based event that rotates through the area churches. It's our turn this fall.
We are having another Pastor's Wife come and speak about their mission trip to South Korea. They traveled there RIGHT after North Korea started all that stuff this summer. It's going to be fascinating to hear about.
Part of the festival is that there is a favor for everyone to take home. My friend and I found luggage tags through Oriental trading. I had paper left over from a DCWV Asian papers pack from a few years ago. So we took a day, went to the local scrapbook shop, put our heads together (with help from the cricut) and designed and card of sorts that will go in the luggage tag.
We were able to make 76 cards from 10 sheets of Asian paper, 1 12x12 and 1 8.5x11 piece of black paper. We designed it to use the scraps and universal blocking pieces. Then we just mixed and matched since all the paper was from the same pack so theoretically it should all go together.
Then we came home and punched out crosses from metallic paper and printed the Bible Verse on labels. My friend has the last 30 that need labeling, but I have at least one of each design to show you. I'll also take pictures once they're in the tags and when we decorate the dining room on the 24th if anyone is interested.
The only complaint we had was the scrapbook store was out of Xyron cartridges so we had to hand glue all those flower silhouettes. THAT was messy. Knocking out these 76 took us from 10:10-3:30 (with a lunch break) and an additional hour for the crosses/labels. It'll probably take about 30 more minutes to put them in the holders. Not bad.
horizontal design 1

horizontal design 2

vertical design 1

vertical design 2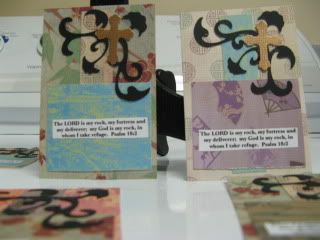 46 of the 76 finished cards