After looking at my pics- they're awfully small. If anyone has an interest, I can re-upload them bigger. Just let me know which ones you want to see bigger.
Just designed the last card I'm going to make this season and I'm about 90% done with making 35 of that design. (I've got everything cut out and stamped. Just gluing it down on the card now.)
Anyways, here are the last of the designs for 2008.
First the ones I can't remember if I showed you or not.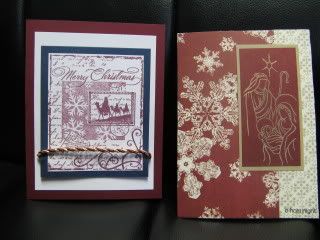 Snowflakes are glittery on both.
It says "O Holy Night" on the red one.
I utterly adore the right card and wish that I had more of the snowflake paper and time to emboss. (The Mary/Joseph/Jesus image is embossed).
The left one, my son picked out that stamp and insisted that I treat myself with a cool new stamp. Gotta admit that the boy has taste.

This one was from a card class last July. Changed the saying to say "God's Son was born, His Only Child was Given". The white strip is raised. Green side of the paper has glitter on the flowers.
This is a fussy, fussy, fussy card. Lots of inking edges and cutting, etc. Glad I made some, SO HAPPY that I'm done. LOL
Now for the ones I know I haven't shown...
I used up these papers I had cut and did this half fold thing too... but hated the color contrast when I was done. Used scrap papers and covered a lot of it... and in the end it turned out to be one of my absolute favorites. It's VERY striking in person.


(It's an intricate cross for the picture stamped in silver. The saying says Joy - Hope. It can be seen when the card is opened since only the cross opens up. It says Merry Christmas inside. Gosh I wish it had photographed better, but it's utterly dark here today.)
These were designed to use up a red/silver/white gift package paper I had bought.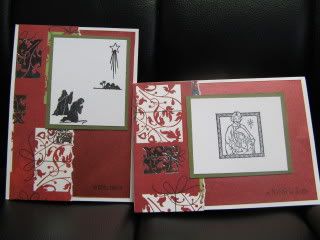 (tall one says "O Holy Night" and other one says "A King is Born")
These were designed to use up the extra strips of paper from the ornament card above and the "Unto us a Child is born" sets I stamped a ton of.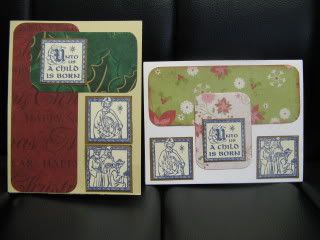 (Same stamps as I used here)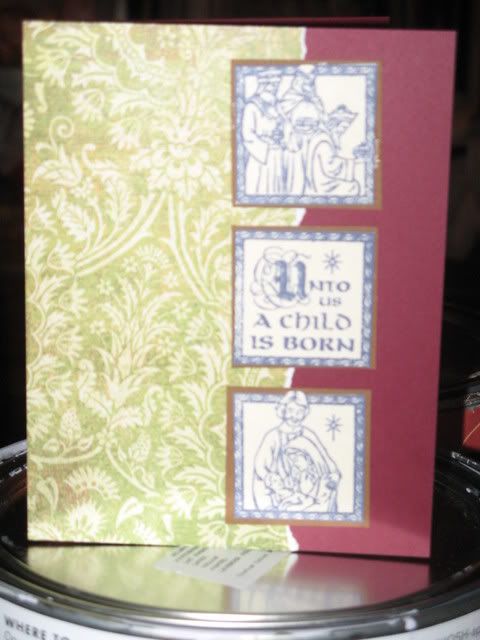 And lastly, the card I'm still putting together. Inspired by the stamp set found at Walmart for $2.97. They're clear stamps and were arranged on the sheet exactly how I put it on the card. I thought it was perfect. The bottom right star I added... in the end I ended up putting a metal snowflake brad there instead.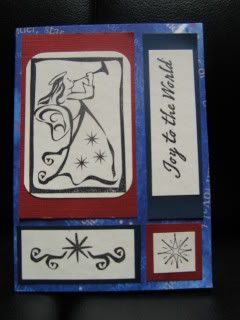 (This card has the added bonus that I could use all the butt ugly papers that came in a Christmas Pack I bought 3 years ago, and it gives off some color, but not enough for anyone to see how ugly the paper truly was. And note- my photo shows a GOOD paper... not an ugly one. I actually adore that blue paper.) I've thought of stickling sparkle onto the wings and maybe the stars on her dress. Either that or adding color with my watercolor pencils but I'm not sure.