It took me over two years to sit down and scrapbook Jordan's hospital stay. And then it took me three days to complete the layout (mainly due to not having a long period of time at once to do it). But now it's done, and my 2005 book is complete. I had a LOT of journaling so I had to figure out how to get it on the page. I ended up completely hiding it so that I could get the pictures I wanted to on the pages. Speaking of pictures, I had TWENTY FIVE pictures that I didn't end up using! Crazy, huh? I somehow lost the pictures I originally printed out for this (which is another reason it took me 2 years, I couldn't find the pictures and looked for a while for them). So when I got these printed, I just blindly grabbed a bunch from that folder on my computer. So now Jordan has a ton of pictures in her photo album from her time in the hospital.
Okay, enough rambling about the layout and pictures, here it is. The journaling is below, in case you want to sit and read through it all.
The title is Sizzix cut chipboard, inspired by Robin's thread asking about cutting chipboard.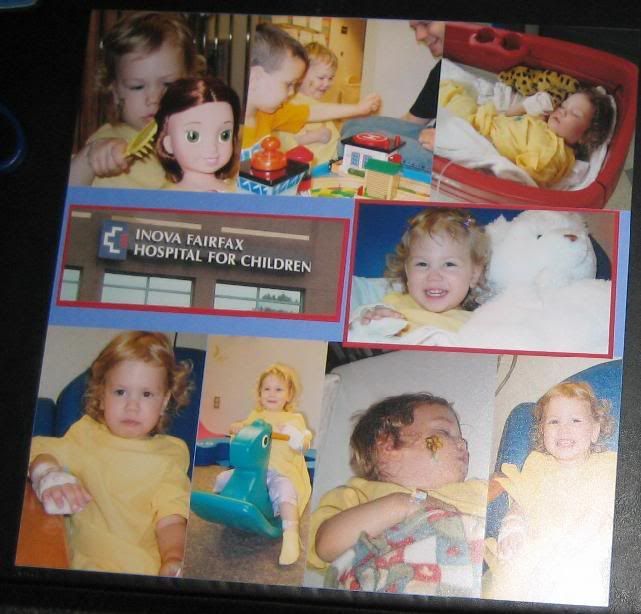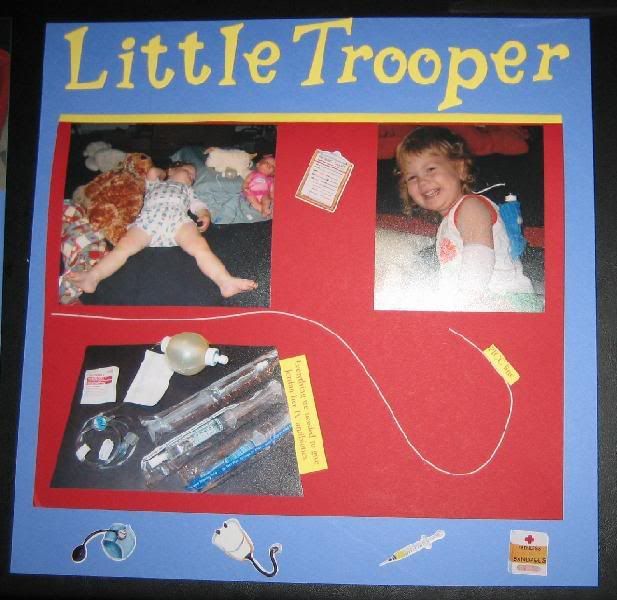 The string looking thing on the page is the PICC line - not the one that was in her body, but some extra from that day. Gives you an idea of what was running through her little body. And the picture of the stuff on the black paper are all of the things we needed to use each time we had to give her the antibiotics (3x a day for 6 weeks).
And here's the hidden journaling: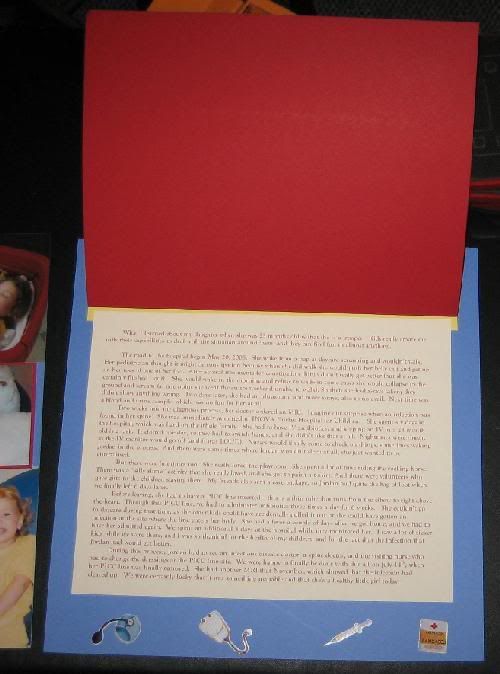 The journaling itself:
What I learned about my daughter when she was 23 months old is that she is a trooper. Kids really amaze me with their capabilities to deal with the situation around them, and they can find fun in almost anything.
The road to the hospital began May 20, 2005. She woke from a nap at daycare screaming and wouldn't walk. Her pediatrician thought it might be constipation because when she did walk she would push her belly out and get up on her toes of one of her feet. After several treatments for constipation things didn't really get better (but she was certainly flushed out). She would wake in the morning and refuse to walk--in some cases she would collapse to the ground and scream (at one point she went the entire weekend unable to walk). So then she had x-rays taken; they didn't show anything wrong. Two days later, she had an ultrasound and more x-rays, also to no avail. Next time was a blood and urine sample, which was no fun for her at all.
Two weeks into the diagnosis process, her doctor ordered an MRI. Imagine our surprise when an infection was found in her spine! She was immediately admitted to INOVA Fairfax Hospital for Children. She spent six days in the hospital, which was hard on the whole family. She had to have IV antibiotics, and keeping an IV in a 23 month old is a task. It clotted one day, so they had to switch hands, and she didn't like that at all. Nighttimes were rough, as the IV monitor would go off (and it was LOUD). Nurses would finally come to check on things, sometimes waking Jordan in the process. And there were some times where Jordan wouldn't sleep at all, she just wanted to be entertained.
But there were fun times too. She really loved the playroom. She spent a lot of time riding the rocking horse. There was a "silly slime" activity that she really loved, and she got to paint a t-shirt. And there were volunteers who gave gifts to the children staying there. My friends also sent a care package, so Jordan had quite the bag of loot when we finally left 6 days later.
Before leaving, she had to have a PICC line inserted – this is a thin tube that runs from the elbow to right above the heart. Through this PICC line, we had to administer antibiotics three times a day for 6 weeks. She couldn't go to daycare during that time, as the other kids could have accidentally pulled it out or she could have gotten an infection at the site where the line enters her body. She had a fever a couple of days after we got home, and we had to have her admitted again. We spent an additional 3 days at the hospital while they monitored her. I saw a lot of sicker kids while we were there, and I was so thankful for the health of my children, and for the fact that the infection that Jordan had would get better.
During this process, Jordan had to see an infectious disease doctor, a spine doctor, and the visiting nurse who had to change the dressings at the PICC line site. We were happy to finally be done with this all on July 14th, when her PICC line was finally removed. She had another MRI that November, which showed that the infection had cleared up. We were certainly lucky that it was something treatable and that she's a healthy little girl today.
-------------
ETA
Both pages together