ok so i decided to take the easy route and bought those iron-on glitter letters. and since i couldnt find my iron for some odd reason, i had to use my... ::gulp:: flat iron (hair straightener) it actually worked pretty well! these were more plush than i wanted, but all i could find so the parts around the letters got ironed down too.
Ryans name on his stocking is crooked because its only 4 letters long and its hard to place only 4 letters on a big stocking!! im going to redo his tomorrow since the stockings are only about $2 at walmart. DH says its cool like that because it looks like a kid did his :rolleyes:. and he said mine turned out the best! but thats because my name has 6 letters and the less space inbetween, the better! oh and the little one with the K is for my little Kylee Marie that will be here in April
she got a small one since she isnt actually here yet! LOL ok ok on to the pic..
when they are hanging, you cant actually see the flat iron marks lol
***UPDATE***
here is Ryan's new updated stocking..it looks a ton better!!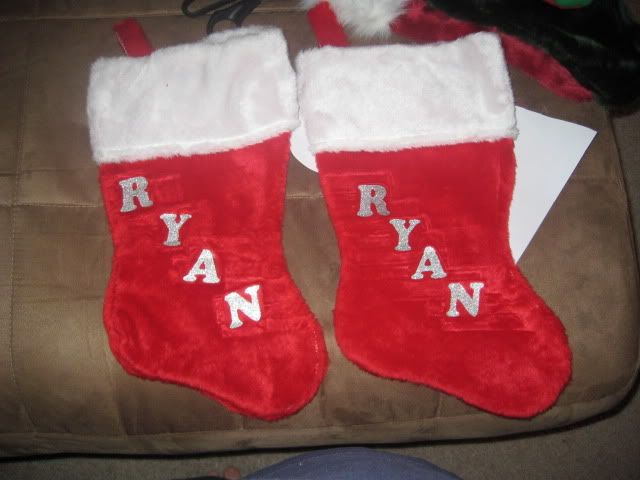 and here they are hanging...i love how the flash caught the iron marks..i swear you cant see them if you are sitting on the couch!