I intended to do some digital scrapbooking Friday during the VC but my hubby stole the computer all day! Sunday was our Thanksgiving Dinner at church. So the only things I got done were some Christmas Cards during the Scrapbook Convention I attended on Saturday. I make some of my cards out of recycled cards that were sent to me. I cut stuff off the front that I can use and also cut out the sentiments printed on the inside. Then I put all the graphics in one bag and all the sentiments in another. I do that so that I am not using the fronts with the sentiments they came with. That way they are my own creations. I mix them with scrapbook embellishments to make completed cards. I also buy things like gift tags and other Christmas things I can use. I scanned these on the scanner instead of taking pictures of them.
Front of card: The both the white and purple paper are a pearly metallic...far prettier than the picture.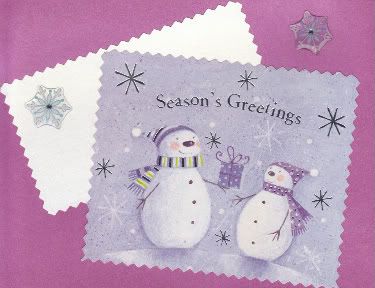 Inside of card:

Front of card: The Merry Christmas is a stamp from a new set of Christmas stamps I got at Archiver's while I was at the convention!
Along with some new chalk inks. Anyone used them before? I used to make a huge mess with stamps...I don't with these!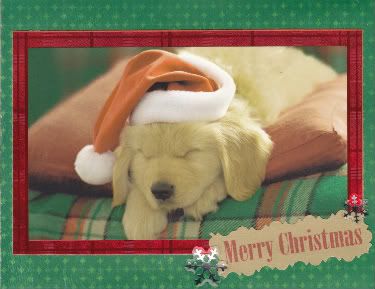 Inside of card: The hearts are metal brads.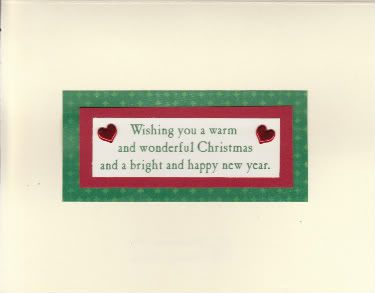 Front of card: I used the Cricut to cut out the words (can't remember which font without checking). I used red liquid glitter along the edge of the red paper.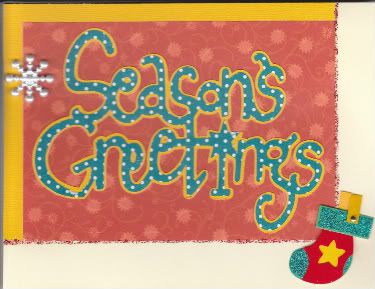 Inside of card: Metal star brads on this one.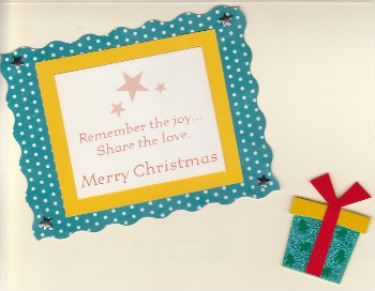 Front of card: I made this card specifically for my sister because she is a Pooh fan. Four of the snowflakes are dimensional stickers I placed over the snowflakes on the paper. I used foam to raise the presents to make them 3D and placed them on the sled. I found the string and tied it from the sled to Pooh's hand. The Let It Snow is ribbon.

Inside of card: This snowman came with the Pooh and sled. As did the snowballs. It was an embellishment set. I used a silver liquid glitter to go along the outside edge.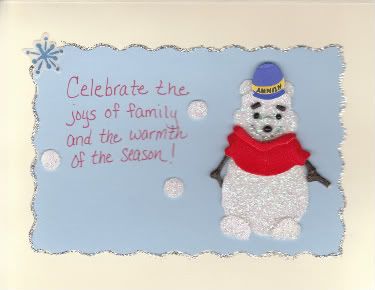 Front of card: I made this card for my Great Grandma. She is 94. The tag in the middle opens and says Grandma Wray with a heart. The angels are metal charms. The blue along the left side are rub-ons.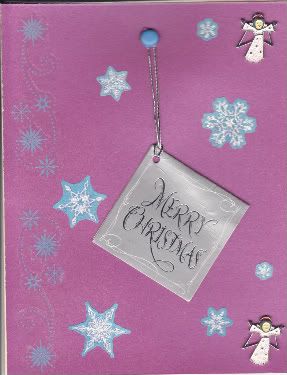 Inside of card: This is the only card I have done so far where I put something on both sides of the inside. The words under the snowflake are another of my new stamps. The stars are metal charms.

Front of card: These are gift tags. The second picture shows them open. The words are more stamps from my new stamps.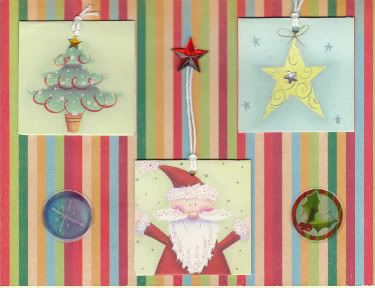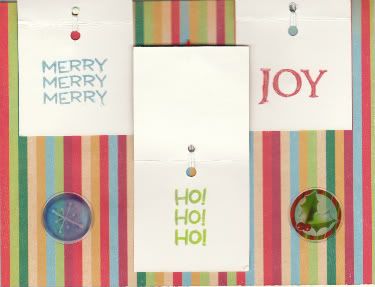 Inside of card: