I didn't do a layout today, but wanted to share the quiet time pages I've gotten done so far this week. Hope to do my planned layout tomorrow, if the county fair doesn't wipe me out first (hoping to do my challenge layout then
)
Monday's page was Andrew's tonsillectomy and adenoidectomy. Hate that the first picture of the page is fuzzy.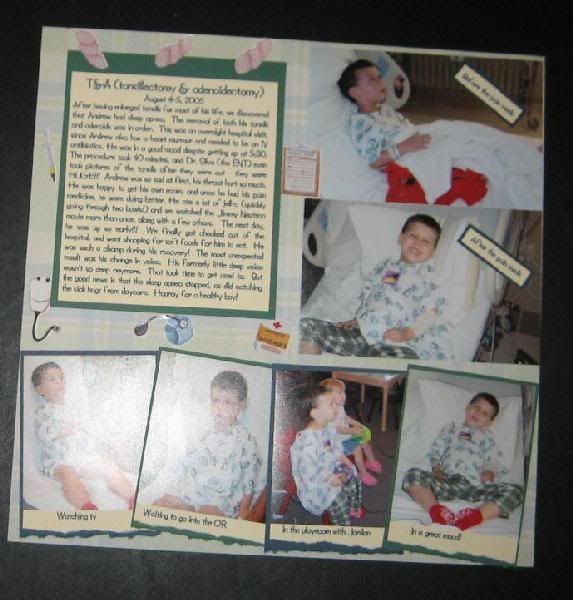 Here are the captions, since you can't really read them (starting at the top right corner going clockwise) :
Before the pain meds
After the pain meds
Watching tv
Waiting to go into the OR
In the playroom with Jordan
In a great mood!
There are bandaid stickers acting as hinges so you can lift the journaling to see the gross picture of his tonsils.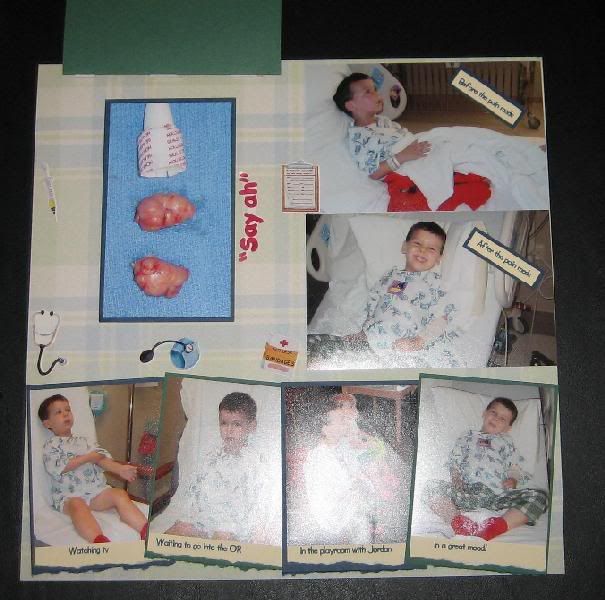 And the journaling:
T&A (tonsillectomy & adenoidectomy)
August 4-5, 2005
After having enlarged tonsils for most of his life, we discovered that Andrew had sleep apnea. The removal of both his tonsils and adenoids was in order. This was an overnight hospital visit, since Andrew also has a heart murmur and needed to be on IV antibiotics. He was in a good mood despite getting up at 5:30. The procedure took 40 minutes, and Dr. Silva (the ENT) even took pictures of the tonsils after they were out - they were HUGE!!! Andrew was so sad at first, his throat hurt so much. He was happy to get his own room, and once he had his pain medicine, he were doing better. He ate a lot of jell-o (quickly going through two bowls!) and we watched the Jimmy Neutron movie more than once, along with a few others. The next day, he was up so early!!! We finally got checked out of the hospital, and went shopping for soft foods for him to eat. He was such a champ during his recovery! The most unexpected result was his change in voice. His formerly little deep voice wasn't so deep anymore. That took time to get used to. But the good news is that the sleep apnea stopped, as did catching the sick bugs from daycare. Hooray for a healthy boy!
Tuesday's page - Jordan's 3rd birthday
I was going to do yellow inside the purple (shadowing) for the title, but wasn't happy with the look. Not thrilled with the "i" in the title, but otherwise, I think it looks okay.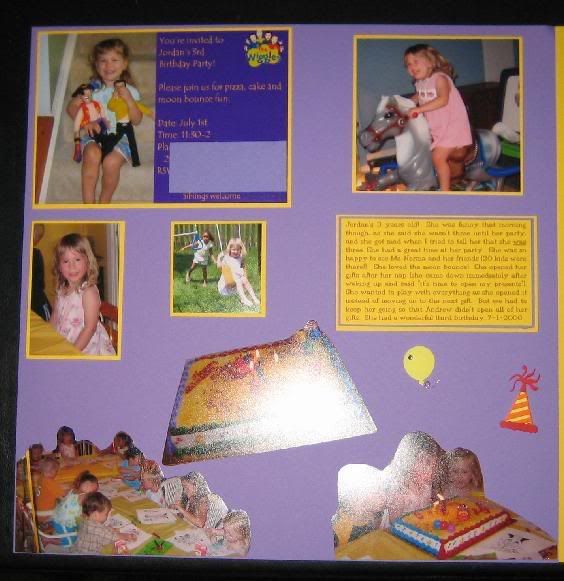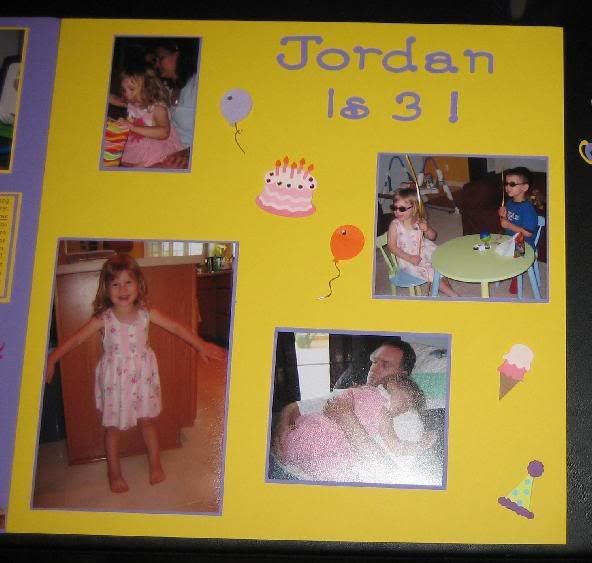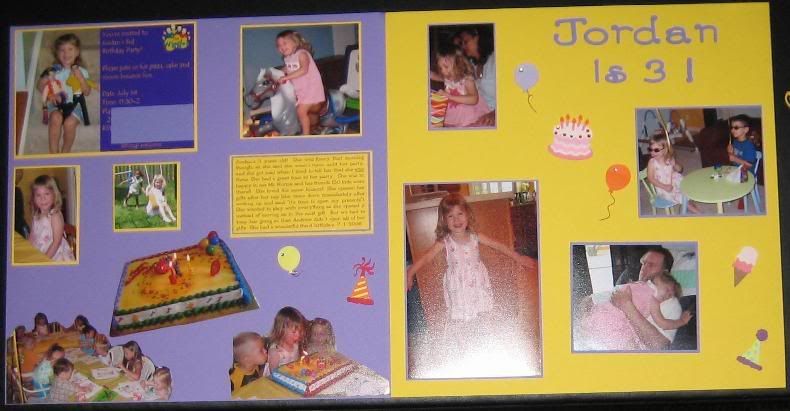 And the journaling:
Jordan's 3 years old! She was funny that morning though, as she said she wasn't three until her party, and she got mad when I tried to tell her that she was three. She had a great time at her party. She was so happy to see Ms. Norma and her friends (20 kids were there!). She loved the moon bounce! She opened her gifts after her nap (she came down immediately after waking up and said "it's time to open my presents"). She wanted to play with everything as she opened it instead of moving on to the next gift. But we had to keep her going so that Andrew didn't open all of her gifts. She had a wonderful third birthday. 7-1-2006