We finally took the binkie away from Cadence a couple of weeks ago.... I had to scrap this monumentous event.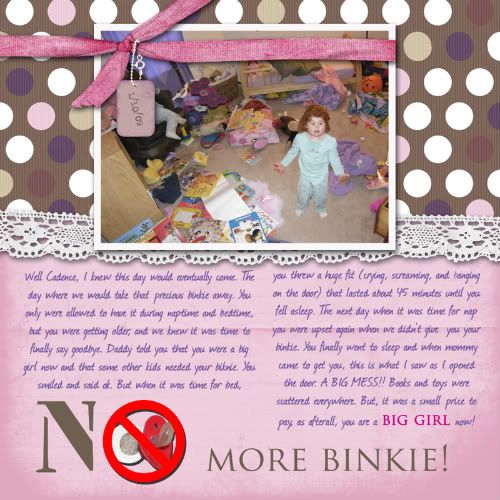 Text reads: "Well Cadence, I knew this day would eventually come. The day where we would take that precious binkie away. You only were allowed to have it during naptime and bedtime, but you were getting older, and we knew it was time to finally say goodbye. Daddy told you that you were a big girl now and that some other kids needed your binkie. You smiled and said ok. But when it was time for bed, you threw a huge fit (crying, screaming, and banging on the door) that lasted about 45 minutes until you fell asleep. The next day when it was time for nap you were upset again when we didn't give you your binkie. You finally went to sleep and when mommy came to get you, this is what I saw as I opened the door. A BIG MESS!! Books and toys were scattered everywhere. But, it was a small price to pay, as afterall, you are a big girl now! "
(ETA: that's Cadence's binkie that I took a picture of.... I can't let her see this page otherwise she'll be crying for it again!... SHH!!)
Can anyone see what's awfully weird about this page?!?