Hi ladies!
I've been an absentee because I had Kaylee last Tuesday! I just copied and pasted what I wrote on my birth board. I haven't done her birth story yet, but here's her stats and pics of her adorable little self. I thought you might want to see. Enjoy!
Looks like you all had fun at the VC - I hope to get in on the next one. Tomorrow I'll have more time at the computer, so I hope to get caught up on what's going on around here.
One more thing - remember the LO in progress I asked for help with? The one where I was 6 mo. pregnant and wasn't quite sure about journaling, using a poem, etc.? The day before Kaylee was born I finally decided what to do. Now I just have to finish placing things on the page. Hope to have it posted soon. And, I've already got so many ideas for LOs with her in them.
I hope you enjoy these pictures - thanks for looking!
(taken from my other post on my birth board)
Ok, I've been having some serious pg.org withdrawl - let me tell you! I missed you all so much, and I've been dying to tell you about Kaylee. I'm sitting here for a midnight pumping session and discovered this is the first way I found I can pump hands free - woo hoo! This will be quick since I'm nearly done pumping and need to get to bed.
I hope to get on tomorrow and post Kaylee's birth story (and more pics...). AND, I can't wait to read about everything that happened since I've been away. Congrats to all you mamas who've had your babies!
So, here she is, my precious baby girl, who has completely stolen my heart...
Kaylee Grace
Born April 29, 2008 @ 4:24 p.m.
5 lbs. 12 oz.
20 inches long
Apgars: 8 and 9
Quit kissing me, Mom - Can't you see I'm trying to sleep???

She made this face when I was trying to burp her - must have been terrifying by the looks of it!

Sleeping peacefully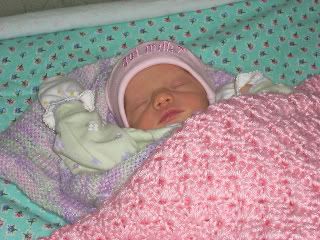 So cute!

DH and Kaylee - both zonked out on the way home from the first pediatrician appt.