I thought I'd update you all concerning Josiah and his Mayo appointments since you've been such great support.... he's improved, but not enough. Every 2 or 3 days we have a day just as bad as before seeing the doctor. It's been 2 weeks since he was put on zantac, and his stomach started distending again, so we had to call the doctor back. Tomorrow morning I will go and pick up prilosec. It only comes in a powder, so now I have to pump a morning bottle for him to dissolve it into. Luckily I have still had overabundance problems with his stomach troubles. But forced pumping gets to be a pain.
I hate having to put him on a stronger medicine. At least we know it's not a food interaction anymore. I also just keep reminding myself that it's not surgery. Hopefully he responds well and then grows out of this after 6 months.
We have to call in to the doctor again in 2 weeks. He gained less then a pound in the last 2.5 weeks. She wants to make sure he's gaining enough and keeps gaining. He's just over 11 pounds now. He was 7lbs 11oz at birth. He's filling out, but I understand why she's concerned. If he wasn't spitting so much, he'd be huge.
At least the zantac, while not perfect, lets him sleep. He also finally started talking and making faces. Even if he only makes faces when he's going to spit, it's still super cute to see.
Here's some from Sunday.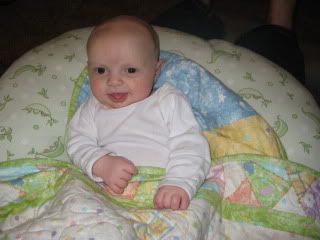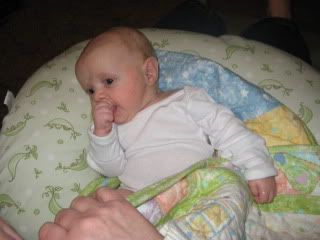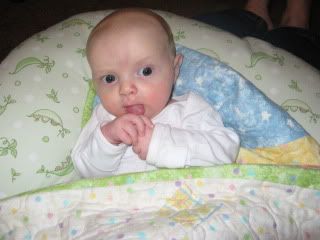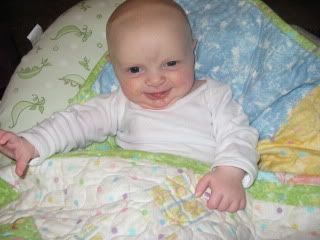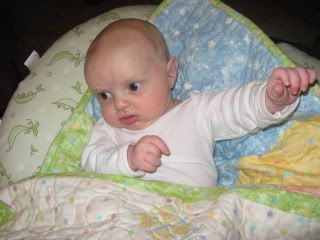 There is a new one of the other kids in my siggie too.