Hi all. I am new to this board but not to PO. I have been scrapbooking for a year now and I am ashamed to admit that I am still on the same book and only about 10 pages in. My mom and I started scrapbooking right after we went on a big family Disney Cruise in April 2007. It was my mom, my brother and his family, and my family (me, DH, DD, and DS -who both celebrated their b-day's on the cruise). Anyway, we thought it would be a great way to save such a wonderful memory. My mom created a whole scrapbooking room and it's been a ball.
The problme is I think I am being too much of a perfectionist and I am taking way too long with my pages and that combined with the little time I have, has put me in the position where a year later I still have not finished the one book (while my mom and DD, who btw loves scrapbooking too, have done like 10 books).
So, I thought I would come on over to this board and maybe talking with you pros will get my creative juices flowing. I recently moved away so now I don't have all the great tools in my mom's room anymore (bye bye sizzix :sniff:) and that too has really been hard coming up with ideas and techniques when I am really short on tools.
I have posted some of my pics of my book and the rest I will link to on Snapfish. Please take a look and give me some c and c. You will notice that I think my style is more to the chronological journaling type of scrapbooking rather then just pictures and a embellishment.
Here is one of the earlier pages of our boarding photo.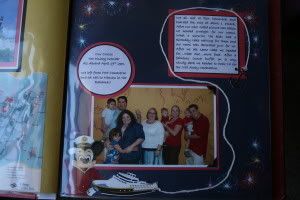 This is a flip out (I love interactive pages) one pic of it closed and one of both sides open. It flips out to three pages and there are pics on both sides. It was a real pain trying to thread the flip out through the holes in the protective sheet.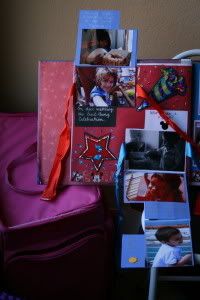 I'm posting these pages because I hate the one on the right. My idea was to thread the rope through the letters which I think worked on the left. But I ran out of rope so I had
the idea of making the words look as if they floated of the end of the
rope, but it looks horrible. Any ideas to fix it?

This is my fav. I took the cruise prof. photos and used a book type of layout that
opens out to reveal the photo and on the sides is the menu that I found
online and printed out. I would love more ideas on how to incorporate
8 X 10 photos without having to cut them.

There are few more of the book on flickr.com so feel free to browse if you like. Thanks so much and I look forward to picking your brains. I've been lurking and you all are so creative. http://www.flickr.com/photos/9173494@N03/