This is one of these pages that I'm really happy with now that it's done.
I went to Michael's on Monday and bought this cool paper, knowing exactly what layout I was going to make (well, the pictures I was going to use). The paper is gold embossed hearts, stars and skull/crossbones. It's from the rock'n roll line of papers (or something like that). So that night I pulled out the pictures from playgroup camp back in August (as there was a whole day for pirates, and I love the pirate picture I have of Andrew).
Tuesday I rearranged the pictures, and just stared at it all. I got nothing else done, just a lot of staring.
Wednesday, I was rebuilding my laptop (software, not hardware) and played around with the page & pictures as they were all colocated on my scraptable. I worked on my laptop off and on all day, and the layout at the same time. By 11 pm, I was happy with how it looked (and had to stay up late to install the printer so I could print the journaling on vellum).
Thursday (today) - the vellum was totally dry (I like to wait a few hours after I print on vellum to use it) and I had to decide whether to use black ink or red (I printed both). Black won, but I edged the vellum with red ink. I screwed up and smeared one side, so I smeared the other side to make it look even.
I attached the vellum with mini brads, and voila! I was done.
I had to share the saga with you because I'm not sure I've even spent so much time dwelling on a one page layout (I have a couple of two page layouts that I spent a lot of time one though). I did just so much staring, trying to figure out how to lay it all out the right way, and deciding whether or not to mat.
Anyhow, the title (in case you can't read it) is Pirates & Playcamp. The journaling is on the laptop, so I can't paste it here. But basically I talked about how our playgroup did a weeklong camp this past summer with 23 kids and 4 toddlers and it was a lot of fun.
Okay, after all of that (and if you read it, thanks!), here's the layout: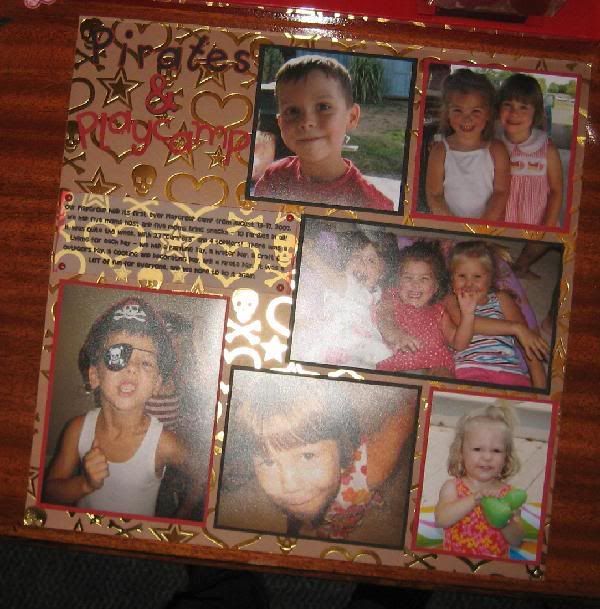 ---------------
Also, since I got my mini-brads, here's the finished one year page for Jordan's professional pictures book