Ok, so it's been awhile since I've checked in on you guys. I've been so crazy busy lately with the house buying (what a nightmare that's been!), activities with the kids (went to Myrtle beach, the circus, parties..), trying to keep up with my CT, and finally, my cake business! This has left me with very little time for online fun. I've done quite a few scrapbooking pages and I made a pirate cake over the weekend that I will share with you ladies soon. I just wanted to let you know that I haven't forgotten you - life has just been keeping me so very busy! miss you all!
I'm sitting here, 11 at night waiting for my hubby to get home from work... which turns out to be a great time to finally update!
As for the house:
You may remember that we put an offer in on a short sale in January. It took almost 3 months to get an answer from the bank - they accepted our offer. We had the inspection done (which found no major things wrong)... so I thought everything was fine... had the termite inspection done... they found termite damage and the cost to replace the wood and do the treatment is $1500. I shouldn't have to pay for that - it's not my fault that the house sat there for 2 years! Anyways, I had to pay to get the house appraised so we could get a loan.. they appraised the house at $205,000 (which I've been told is an underestimate by my realtor) - this is great because we offered $185,000! As I was looking at the appraisal, it shows the history of the house such as how much it was on the market for... anyways, I was excited to see that it originally went for sale for $245,000!! At one point they had a sale price on it of $270,000! holy crud!! Even though we are paying full asking price we know we are getting one heck of a deal and if/when we decide to sell we will make a profit! Anyways, originally the realtors (both my agent and the selling agent) were going to pay for the rest of the closing costs that the bank wouldn't pay for but since they can't just give me the money, they are going to pay for the termite damage and we're just going to have to suck up the cost of the rest of the closing costs. Long story short... this has been a 4 month roller coaster ride... times of joy and times of extreme frustration. I never realized how stressful this process would be!! Apparently we are suppose to close next week... soo crazy!!!
Next thing: Scrapbooking pages!
I honestly haven't really scrapped except for the bare minimum that is required for my CT. I've just been so darn busy that I haven't had the time or energy. I am so far behind on my Project 365, but I'm still taking my pictures - I'll get to scrapping them... eventually. Anyways, here's what I've done over the past month or so.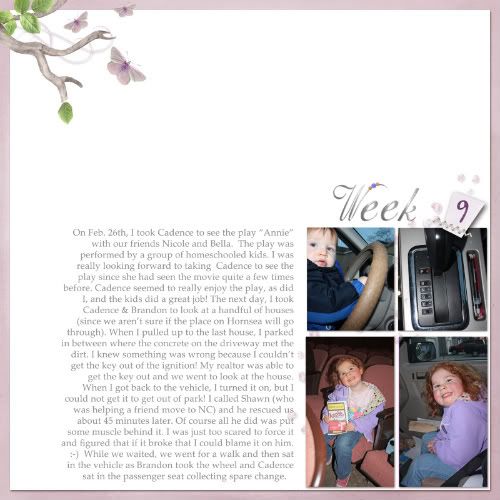 I love the CT that I'm on - her kits are soooo neat!! Here's one from her camping/fishing kit:

next order of business: CAKES!
I've been busy with cakes...
This one was a last minute order from my old daycare provider (who hasn't talked to me since I stopped bringing Cadence there when Brandon was born).. anyways, she did not want fondant, wanted a purple cake, and wanted the letters DIVA...she didn't want to spend that much so this is what I came up with. I am almost ashamed to post this - I could have done so much more if she could have afforded a tiered cake!

Ok, this next one is ultimate favorite cake so far!!! I couldn't wait to do this cake and I just loved how it came out!!!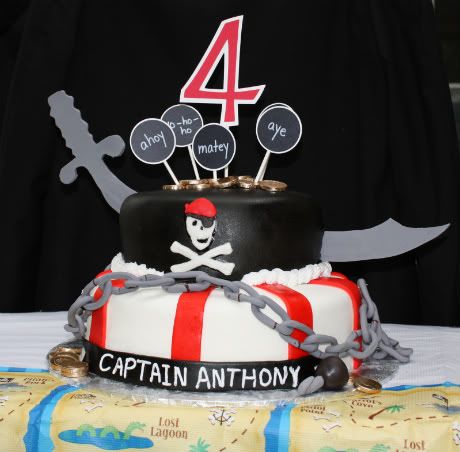 I also made some cuppies to go with the cake (I downsized the top tier of the cake by an inch, so I made some cuppies to make up for the loss in servings)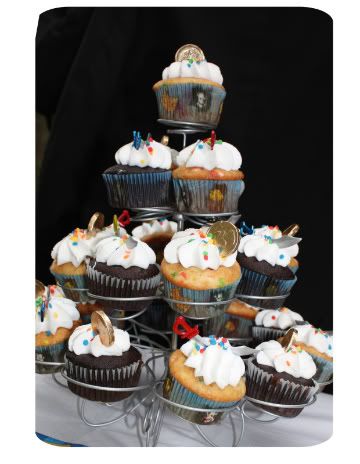 I have 3 orders next weekend... I will be very busy, but I hope to get some scrapping done this weekend!
If you've made it this far, give yourself a pat on the back!!
thanks for reading!