I've been in a scrap funk lately. I want to work on layouts, but I feel like I lack the creative energy. And I'm overwhelmed by other stuff that I need to do.
On top of that, my crop corner shares my headquarters for the consignment sale. It's a big sale on April 5th that I have to get ready for. The bed is COVERED with clothes. The closet is FILLED with toys. I have to tag it all. It's overwhelming. So I can't crop without seeing that stuff and feel like that's what I should be doing.
Here's a picture of most of the clothes ... they're sorted into sizes now, and about a third are on hangers (they all have to be on hangers). In this picture, there are clothes in the front and back, it's not just one big pile, it's 4-5 separate piles of clothes. Some of them have been taken out and put back into storage since they're fall/winter and won't sell now. I have FIVE big storage bins for the fall sale, ack!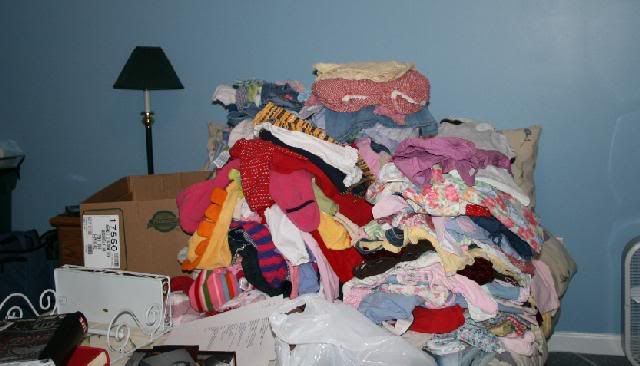 Anyhow, my goal is to get everything tagged this week, as my older kids will be visiting my parents. Natalie is a terror when I try to work on that stuff, but I will do the best I can with her underfoot. Because I sure would love to get it all done so I can crop again. I really need the release I get from doing creative stuff like that.
So I'll probably be somewhat scarce until it's done. I don't even like looking at some of the threads because I'm reminded of what I can't do right now. (I never NOT like looking at your work, girls, I really do love what I see - I just don't like how I feel about not doing it myself).
Just thought I'd update you on me and vent a little at the same time.