So, today I went to Mall of America for Scrapfest 09. It was crazy. There were sooo many scrappers there. It was fun to look around and see all of the new product lines and watch the classes. I wasn't able to sign up for any classes because I had the fam with me and the lines for the make and takes were very, very long. Anyway, it was still great to see everything and I got some cool freebies for being there. After my hour of free time was up (sans family) I met my guys at the Nickelodeon Theme Park and got to hang with them a bit while TJ did his very first amusement park rides. I was impressed with how kid friendly it all was and surprised that it was really not very crowded. After a while, I got the chance to meet up with Andie for a short visit. Kaelen was really cute and in a good mood. Alex zonked out for most of the meet but he woke up right at the end. Alex looked like a giant compared to Kaelen but it was cool to see how similar they were as well. It was nice to chat with Andie and see that she is a real person. We made plans to maybe meet at Archiver's in the future for some of the cool classes that were offered at Scrapfest. Anyway, here are some pics.
This is a board showing all of the different class offerings. Some of these looked so amazing.

This is one of the crazy long lines for the make and takes.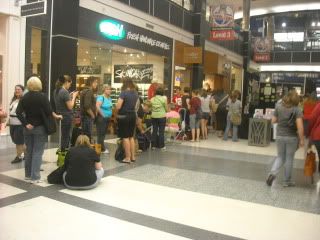 Here are a couple of pics of the classes that were in session. I really want to do some of these next year. I think it would be well worth the extra money.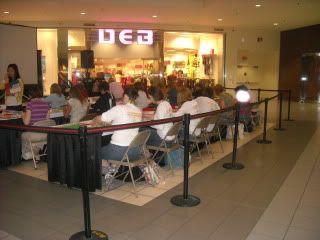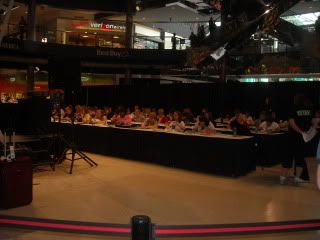 This is one of the make and takes.

Now for pictures of the meet. I'm not in any pics as I was the one taking them but Andie can vouch for me that I do, indeed, exist.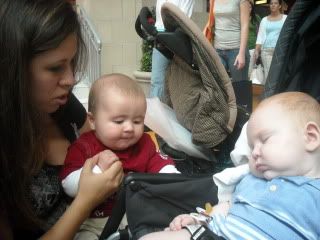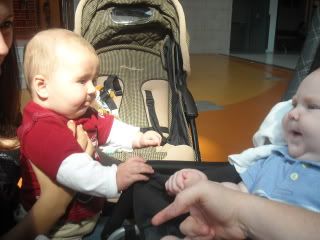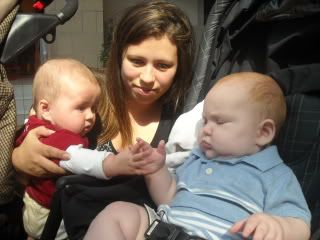 And here is one of my happy baby just because I can