Wow. Okay. Where to begin?
Okay first off pictures.
I've missed my cricut. I made this card for Patricks day care teacher.
Okay next I guess mini rant.
I went to Target last night (at 10:30 at night with my neighbor and two very tired cranky toddlers). What possessed us to leave at that time of night, I do not know. We're crazy. Thats the only thing I can think of. Anyways, I needed canning jars for a christmas project I'm trying to do. Cookies in a jar. Very easy, thoughtful, and of course... fattening. Perfect for the holidays. But I was told that canning jars are seasonal that that it's the wrong season. Scuse me? Isn't this the end of harvest season? Wouldn't this be prime canning season? Maybe I'm just totally off. I'm going to try Walmart shortly but I'm waiting for Patrick to wake up from his nap.
Okay now craftiness. I totally and completely need opionions. DH has told me that I can do anything I want with our room, providing I pick it up. Easy enough to say for him. 90% of the stuff on the floor is his. And the other 10% is my scrapping stuff. I need a room of my own.
Pics shall explain.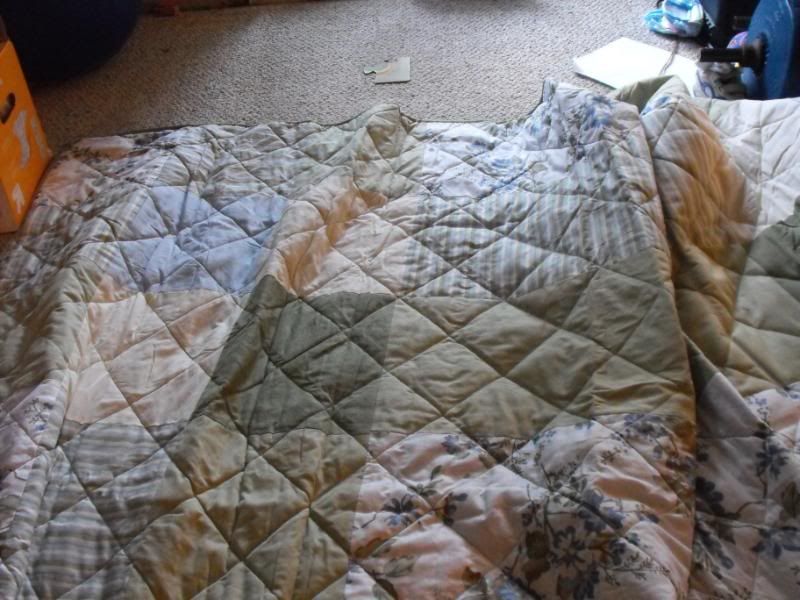 Thats my comforter that I bought when he said I could do this, and that's going to be a whole weeks project, but I want to paint and I want crafty ideas. So please help? What color would you go for? Theres so many choices which is why I took two photos. Theres the melon green, the sage green, the cream, the blue, the white (anything but white). I have no idea. Four walls to paint and I'm lost as to what to do. I don't want to do all four in the same color but I'm not going to do what I have now, which is two white, one solid blue and one mixed color that was supposed to look like clouds but looks awful instead. And I kind of want to get away from the blueness of it all. I have three boys, and no girls, and I want a girly kind of room.