I'm sorry I've been a little hit and miss. I've had an endless slew of visitors throughout Feb and too many projects. I've been here, just not as much as I would like. I'm sorry about the poll for red challenge. I stopped in to post it today but it was already posted.
So I finally have some pictures to share of my sewing projects
The first video is of her in the dress I made. The video is funny and I don't have a really good picture of the dress otherwise.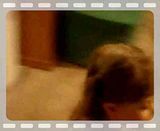 Here is the other dress I made (it is a little big, I made her a 3T but she is still 2T):

A friend loaned me her nursing cover so that I could make some. They turned out great. Here are two:

Here are some easy burp clothes I made (and some matching shoes):

Here are some cute shoes. I just love this pattern and have used it lots since it was posted (Thank you!!!!):