March 19th- 2 more days. I will give this challenge till monday night. Tuesday morning I will pick a winner!:D
I am so slap happy due to no sleep. I was typing step by step and I just wanted to bust out with OOH BABY GONNA GET TO YOU GIRRRRRRLLLLL! I know I am such a dork lol no need to tell me:)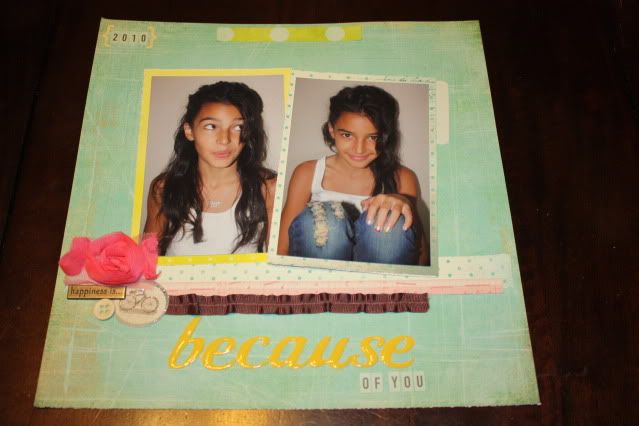 Okay so here is the page. I think the main thing that keeps us all in a rut is second guessing ourselves. Ever notice how when you scrapbook with a friend it is easier? I think it's because subconsiously you know that you want that sticker in that spot but then you second guess yourself. Having a friend say ''yes, that looks good there'' makes you not doubt yourself making pages come together quicker.
While making this lo I just went with it. While trying to pick which color paper to mat my pics on I got stuck. I then told myself to just go with it and I chose both. I was also cutting strips of paper and one fell at the top of my page on accident. I figured why not and glued it down. While picking out an embellishment I could not choose so I went with them all.
My challenge to you is to make this lo without second guessing. Hear my voice in your head saying YES! It looks good so put it there. (Okay well, that might be hard since you have never heard my voice lol) well, some of you have. Sorry, I told you all I am sleep deprived:D
Anywho, here is the page.
I thought it would be neat to all go with the because of you theme. Pages could be on your dh, kids, pets, something you love ect. Of course if you don't have pics to fit the theme then use whatever title you want. There is a spot we will make for hidden journaling so if it is a personal subject you can still feel free to pour your heart out like I did to Jazzy. For diggy gals you can also make a hidden journaling card to add to the back of your page.
SUPPLIES
pick a sheet of cardstock for the main page
2 different colors to mat your photos. If your pic is horizontal then use 1 color but give a 4x6 pic atleast a 1 inch border around all sides.
2 strips of pattern paper 1st strip about a inch by 11 1/2inches, 2nd strip about 1/2 an inch by 11inches. No need to measure just eyeball 2 strips with one being smaller than the 1st.
I strip of ribbon 6 inches long or shorter
4 or more random embellishments DON'T second guess it just grab.
Stickers or chipboard for your title
any sticker sheet with numbers and letters. This will be used for the date on top and the words for you at the bottom.
a 4 1/2 stip of paper for the top
the journaling card I will show (how to pics)
Grab your paper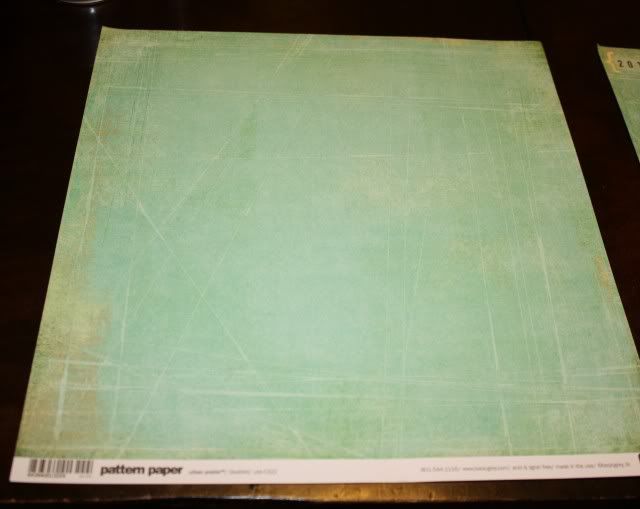 cut 2 colors to mat photos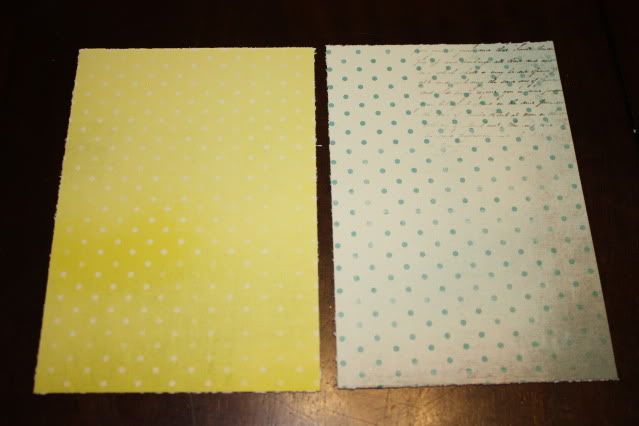 Mat both photos but do not glue to page just glue to mat _Don't mind the tab that comes later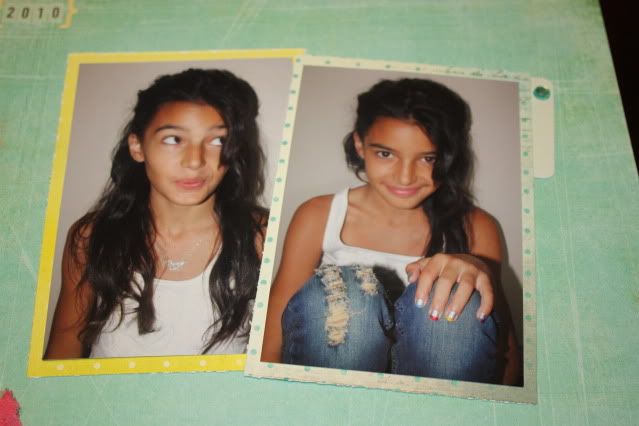 Cut your strips and ribbon

Place paper strips on page with the larger one just slightly under your photos. 2nd strip lays over the first and then ribbon is centered under (SEE PIC) NOTE... YOU MIGHT WANT TO ADD TITLE FIRST SO YOU KNOW HOW HIGH UP TO GO WITH THE RIBBON>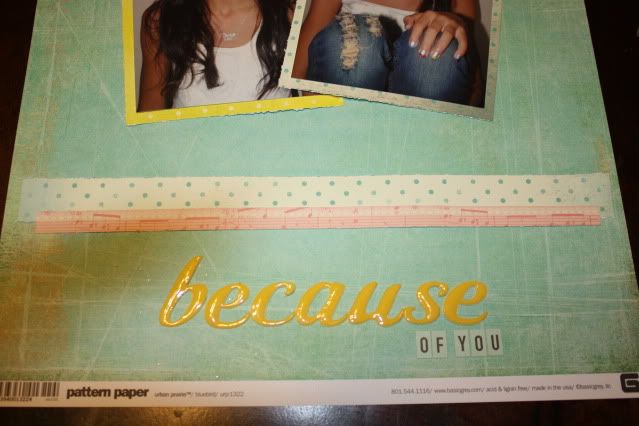 add date to top of page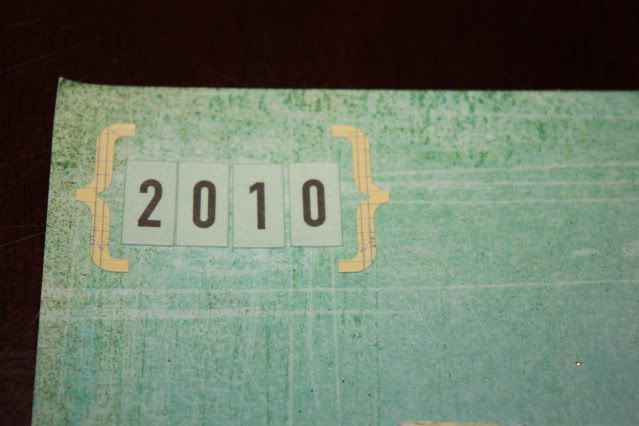 now we will make the journaling card. Take any paper that you can write on and fold it like a card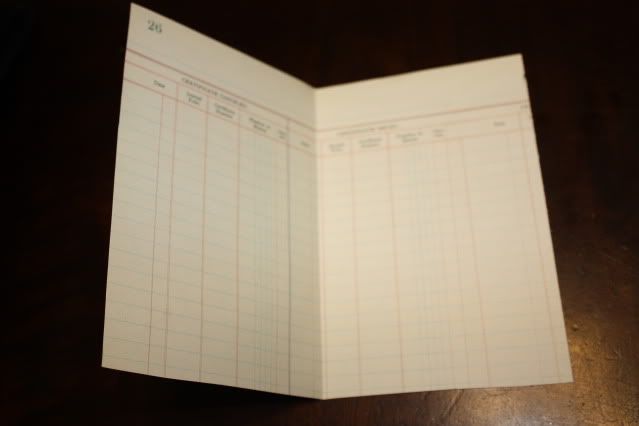 THIS PAPER SHOULD NOT STICK OUT FROM BEHIND THE MATTING ON YOUR PIC
Next add glue to the cover of the card

glue your matted pic to the cover of the card IF YOU WANT YOU CAN CUT A TAB TO GO ON THE COVER OF THE CARD. WHEN YOU GLUE DOWN THE MATTED PIC YOU WILL HIDE THE TAB WITH A TINY AMOUNT STICKING OUT (see finished lo for this)

Now glue down the pic at the left of the page first at a slight angle. Add glue to the back of the card and glue down just slightly on top of the other pic.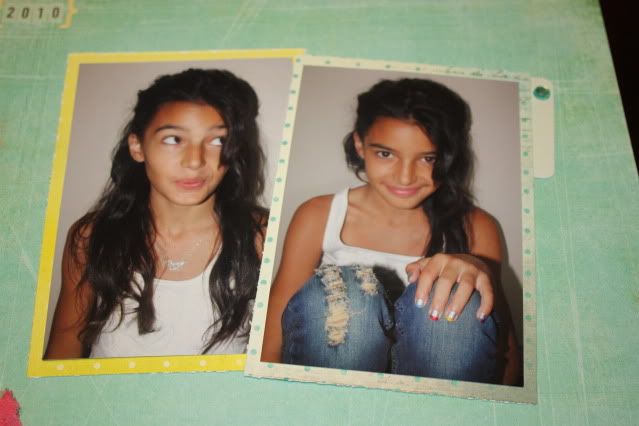 add your embellishments and group them together


Then add a strip to top of page and wammo! your done:)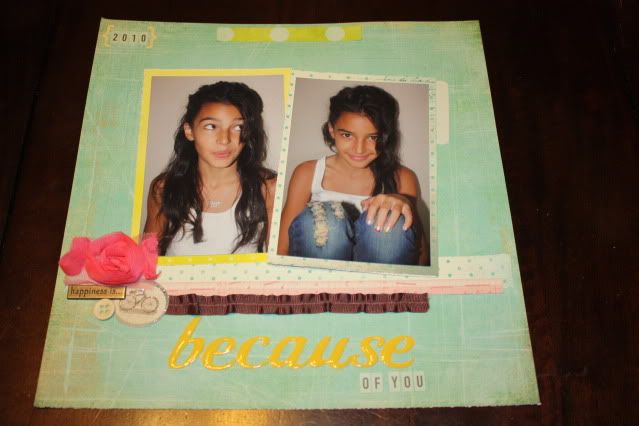 Any questions just ask. If you want to add a flower but don't have one you can always make a paper flower (I can give you directions if needed)
For boy or dh pages just pick embellishments that are more guy themed. If the ribbon is too much then use another strip of paper or a strip of measuring tape would work if you had a paper one. If you don't have a pic for what you want then use a 4x6 and journal or type on it and mat that. Good luck
Start scrapping and remember to just go with it
Just made a page quick using my directions. The bad handwriting will be replaced by typed out journaling and glued down. I just wanted to show an example if you did not have a pic to go with the theme. This would also be how you could mat a horizontal pic.