Here are the Thank You cards that I finished the other day for people who sent gifts or brought food when baby Aaron first arrived...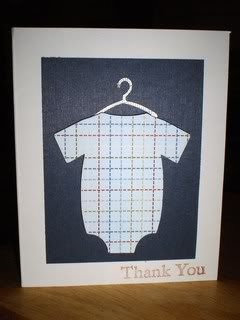 pop dots on the onesie:

Also here is a LO that I finished the evening before I went into labor. I liked using girlier paper on a LO for a change. Even though the baby is a boy, it is a LO about/for me...so Yes, that is how behind i am with my scrapbooking...but I thought it was funny that I finished my BFP LO the night before giving birth

journaling says: "Just before leaving for Allison's (my sister) graduation, I found out I was pregnant with our second baby. This picture was taken at Virginia Tech after the graduation. I love looking at this great picture of us, knowing it is actually a picture of our little family of four!"
and bonus if you have made it this far...here is a pic from this evening of Aaron, lounging on my lap. not the best pic of him, but he was so content on my lap while I sat here uploading pics