I finally finished making another Christmas gift. (Only have 2 more photo albums to finish and family gifts to mail out. Yes, I'm bad. Christmas is busy for my husband.)
This is for a woman I homeschool with. She's between my mom and grandma in age. She knits and scrapbooks and cooks and just about everything else.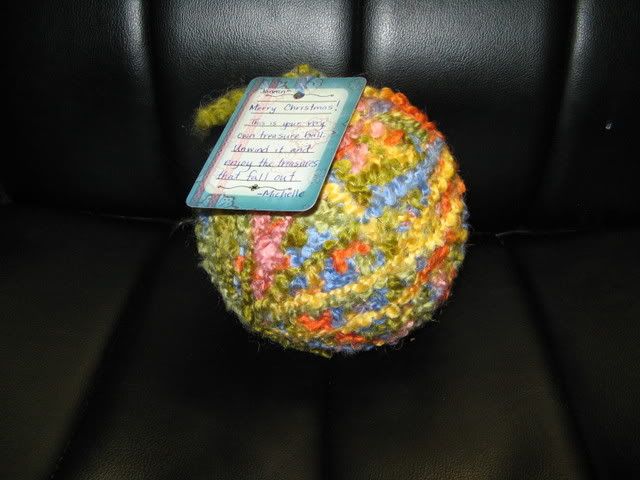 It's a treasure ball.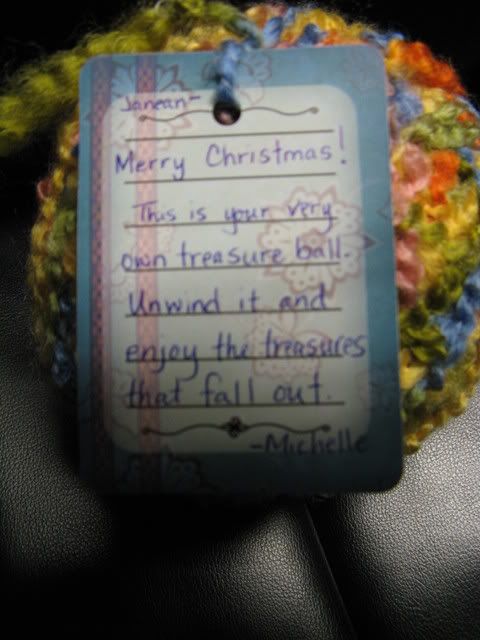 I forgot to take pictures when making it. Sorry.
Essentially, you get yarn, ribbon, or other stringy type things and small treasures. You start with something that will allow you to start a ball. In my case, I used a measuring shot glass (to measure out a tablespoon or less of liquids you cook with), and filled it with various brads and other fun things that would jingle against the glass. Then I wrapped one kind of string around it- creating a ball shape. After the center was covered, I started sticking chipboard pieces and scrapbooking flowers in and wrapping them into the ball. Then I switched to a blue yarn. I used it to hold down different chipboard. Then I used some orange string to hold down a sheet of stickers. Then I wrapped the last skein of yarn I bought specially for this to finish off the ball- sticking in some paper circles and squares and ovals perfect so scrapbooking with. Tie a knot on the top, add a note, and viola, a self wrapped gift of extras you have lying around your house.
For scrappers, I use ribbon instead, but I still top it with a ball of yarn. It just turns out in a more uniform ball that way.
So, what do you think?